Shen Yun Performing Arts Touring Company visited "Music City" for the first time this year, on February 18th and 19th. After both performances at Andrew Jackson Hall, audiences gave standing ovations after the final curtain. Many in the audience expressed surprise and pleasure for what they had seen.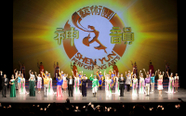 Shen Yun Performing Arts Touring Company completes its shows in Nashville, TN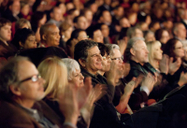 Audience in Nashville, TN is entranced by the exquisite performance of Shen Yun Performing Arts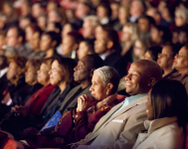 Audience in Nashville, TN is engrossed in the Shen Yun Performing Arts' exquisite performances
'Valentine's Gift 'Worth a million bucks''
Vanderbilt University staff member Janet Skip and her husband Ken, a salesman, purchased tickets to celebrate Valentine's Day. She said it was the best Valentine's present they had ever had. "Its heart warming, well worth any money you pay for it." She said her husband said it was "worth a million bucks."
Mr. and Mrs. Skip sat in the front row on February 19th, and were among the first to rise for the standing ovation. During the erhu (two stringed Chinese violin) solo, Mr. Skip made an emphatic "um-hmm!" sound of passionate appreciation. Afterwards, Mrs. Skip asked, "Were we too loud?" They were not too loud, just part of an emotional and responsive audience. She said she could watch it over and over again.
Nashville is rich in the arts, and the people of Nashville support the arts. There is such great support for music that many of the streets are named for famous musicians. And one can find other evidence of support through the murals around town and in hotels.
Ladies in the audience wore sequined jackets, red satin dresses, embroidered dresses, and even traditional qipao, the close fitting Chinese gowns. On the last night, a young boy with curly blond hair stood on his seat in the front row, mouth agape, eyes wide, and arms extended toward the stage.
Shen Yun Touches the Soul
Ms. Tereska Kovalik is a medical professional at Williamson Medical Center in Nashville. Warm and animated, she loves the arts. She decided to treat herself to the first ever performance by Shen Yun Touring Company at Andrew Jackson Hall, and the experience thrilled her. "I got chills when I first saw (the opening scene), when it first showed up I just got chills all through my body, it was just phenomenal," she said. "And just one scene after another was just breathtaking. The scenery, the background scenery came to life. It was just absolutely fabulous."
Ms. Kovalik is a season ticket holder at the Tennessee Performing Arts Center, and was pleased to get the best seats for the Feb. 18th show. She felt impressed by the amount of work the artists put into creating the show, and that piqued her curiosity. She was also intrigued by the hand-made silk costumes.
Not only did the costumes charm her, but she was also touched by the inner content of the show. "It was a very spiritual show," she said. "I feel my soul was touched by some of the experience here. Phenomenal." Ms. Kovalik plans to act as an ambassador for the second show on February 19th. "I will tell everybody about it, [and] say 'you have missed a great show,'" she said.
Television Executive Finds Shen Yun Astonishing
Also among the audience was Doris Smith, sales manager with the local CBS affiliate. She said she loves the arts.
"You have to see it. You can't tell people. They just have to see it," she said after seeing the Touring Company at Andrew Jackson Hall. With a pensive expression, Ms. Smith spoke about the dances which told stories of contemporary China. She said, "It definitely touches you when you see what people go through for their faith."
Ms. Smith has travelled extensively, but never to Asia. She said the projected backdrops made her long to see China, "It gave me a sense of what a beautiful country it must be." It was a genuine presentation of traditional Chinese culture as it once was. "I just think it's beautifully done, vibrant," said Ms. Smith. "The fluidity of the show is just astonishing. It's an amazing show. We'll definitely be back."
You are welcome to print and circulate all articles published on Clearharmony and their content, but please quote the source.