Stockholm City Hall is a famous landmark; the location of the Nobel Prize awards banquet held each year on the 10th of December. It is one of the capital's most visited tourist attractions. Local Falun Gong practitioners frequently set up a display along the main road leading to City Hall for the benefit of the many visitors passing by. For the last several weeks, they have done so each and every day.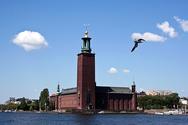 Stockholm City Hall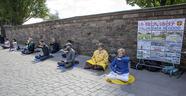 Practitioners set up a display each day along the main road to Stockholm City Hall
Among the many tourists the practitioners encounter, a large number are visiting from mainland China. They often express surprise when seeing Westerners practise Falun Gong, since the propaganda they hear back in China alleges that most practitioners are poorly educated and backwards country-folk in rural China. "Look, Westerners also practise Falun Gong. Look how well they sit in the lotus position! Let's try Falun Gong ourselves after returning home!"
You are welcome to print and circulate all articles published on Clearharmony and their content, but please quote the source.