The following is a summary of a report from a German newspaper called Prima Sonntag:
Mr. Jiang Renzheng, a Chinese national, was repatriated from Wuerzburg to China on March 7th 2005. Prima Sonntag reported on the judicial process involved in October 2004. At present he is sentenced to three years in a labour camp for practising Falun Gong, a Chinese cultivation practice.
Being suspected of wanting to stay in Germany by using the name of Falun Gong, Wuerzburg Administrative Court refused Mr. Jiang and his family's application, which was submitted with Falun Gong practitioners' verification of their identity. The German Falun Dafa Association reminded the German Government of the persecution situation against Falun Gong practitioners in China before the repatriation decision was made known. At present, the association is doing its utmost to rescue Jiang and his family back to Germany.
Subjected to surveillance and monitoring
The facts prove that this is undoubtedly a disaster for the family. According to information from the Falun Dafa Association, after four weeks of surveillance and 24-hour monitoring, Jiang Renzheng was arrested and taken to Benxi labour camp, where he was sentenced to hard labour for three years without any trial or legal consultations. Jiang Renzheng's parents also suffered pressure from the Chinese National Security Bureau. His wife Guo Rui and their children can't imagine what the future will be. Now they have to rely on their parents' help to survive because Guo Rui is not allowed to go out looking for a job; she is even forbidden to go to the labour camp to visit her husband. Guo Rui talked with Wuerzburg Falun Gong practitioners on the phone and told them "we have lost all rights, and even freedom."
Falun Gong is a traditional cultivation practice. In addition to the exercises, practitioners also cultivate Truthfulness, Compassion and Forbearance. Falun Gong has been persecuted in China since 1999. This persecution leads to many people becoming destitute and homeless, workers lose their jobs, students are forced to discontinue schooling, women are forced into abortion and couples are forced to divorce.
According to information provided by the Falun Gong Information Centre, there have been more than 1583 practitioners persecuted to death in police stations and labour camps so far.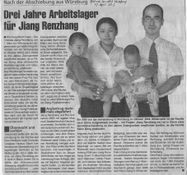 The picture was taken in the period of the Wuerzburg hearing in October 2004. The caption reads "This picture was taken by Penning-Lother. Now this family has been repatriated and returned to China. Jiang Renzheng (right) was directly sentenced to education through labour for three years without legal trial just because they practise Falun Gong."
You are welcome to print and circulate all articles published on Clearharmony and their content, but please quote the source.