On Monday the 20th of June, a press conference was held with Ms. Xiong Wei to inform the public about her two years of suffering in a Chinese forced labour camp. Xiong Wei was a student in Berlin Technical University before returning to China. She was imprisoned for handing out leaflets in Beijing exposing the persecution of Falun Gong. The Slovakia press conference was featured on two TV stations (STV and TA3) as well as in other media.
Later in the day, Xiong Wei met with reporters from two Slovak radio stations and told them about the human rights abuses that have been happening to Falun Gong practitioners in China for the last six years. In the evening, Xiong Wei was a guest on a TV programme on STV, which lasted about ten minutes and informed the public about what Falun Gong is, the persecution and its impact in Slovakia. Xiong Wei revealed to the Slovak people about the brutal crimes committed against her under orders from the Chinese Communist Party.
On the following day, Xiong Wei met with reporters from two magazines, Nota Bene and Domino Forum, who also featured her story.
Interviewing Xiong Wei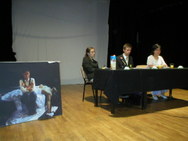 Press conference
You are welcome to print and circulate all articles published on Clearharmony and their content, but please quote the source.