At 10:00 am on August 8th, 2006, Falun Gong practitioners from Australia held a rally and a press conference. They announced that they will not accept Foreign Minister Downer's settlement, which they felt was insincere, and that they will continue the lawsuit against him for abusing his power to issue 49 consecutive monthly certificates banning Falun Gong practitioners from displaying banners in front of the Chinese Embassy.
Since the lawsuit was filed 13 months ago, the Australian Capital Territory (ACT) Supreme Court has repeatedly required Mr. Downer to submit evidence that he had the right to issue the monthly certificates, but Mr. Downer has postponed doing this again and again. He finally suggested an "out-of-court settlement". On July 24th, The ACT Supreme Court ordered that Mr. Downer must submit the evidence before September 4th; otherwise, he must take the responsibility for it. The next Directions Hearing will be on September 11th.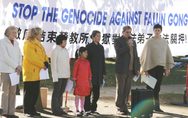 At the press conference, Ms. Dai Zhizhen, one of the plaintiffs, said that Mr. Downer stopped issuing the certificates and said that he would pay the legal fees of the lawsuit, but meanwhile, Mr. Downer refused to admit that it was wrong for him to issue these certificates. He has also insisted upon keeping the right to issue them in the future. Ms. Dai said that practitioners cannot accept these terms. She said that the Australian Falun Gong group is facing the possibility of Downer issuing the certificates again at anytime.
Ms. Dai said that during Wen Jiabao's visit in April 2006, Downer ordered policemen to park three big buses in front of practitioners' banners, blocking them from view. She said: "It is obvious that Downer changed his ways to support the Chinese Communist Party. The purpose of continuing the lawsuit is to expose Downer's giving in to the CCP and selling out Australia's interest."
Zhang Cuiying, another plaintiff, said that Downer's behaviour has seriously hurt Australia's interests. When the CCP is harvesting organs from living Falun Gong practitioners, his behaviour is actually helping to support a crime against humanity.
Zhang Cuiying also said that Downer lied to the public, saying that Falun Gong practitioners had used loudspeakers 24 hours a day. This is not true. Zhang said that she believes that the court will establish justice. She said: "No matter whether he is the minister of the Foreign Affairs Department, he should be punished as long as he violates human rights."
Ms. Kay Rubacek, spokeswoman for the Falun Gong group, said that the Falun Gong group received permission issued by National Capital Authority (NCA), for the first time in last four years, that they can fix the banners on the ground. According to NCA policy, a group can apply to fix its banners on the ground for three days every month, but Downer's certificates deprived Falun Gong practitioners of that right for four years.
Olympic medalist Ms. Jan Becker said at the press conference that she submitted 4000 signatures against the Chinese government's violation of human rights to the International Olympic Committee (IOC). Mr. Jacques Rogges, the president of IOC, has required the Chinese Olympic Committee to answer certain questions. The content of the petition includes:
1. The Chinese Communist Party's harvesting organs from living Falun Gong practitioners.
2. IOC should require the Chinese government to issue visas to Falun Gong practitioners all over the world during the Olympic Games, and protect their rights during their staying in China.
3. IOC should communicate with the Chinese government and help to stop the persecution of Falun Gong. If the CCP doesn't stop the persecution, they are not qualified to hold the Olympic Games in China.
Ms. Becker said that Downer has abused his power. She said that her grandparents had fought for freedom and democracy, but Downer is now depriving Australian citizens of their freedom of speech. Ms. Becker hopes that Downer will respect the rights and freedoms of the Australian people.
Background:
On March 16th, 2002, a day before Chinese Minister of Foreign Affairs Tang Jiaxuan visited Australia, under pressure exerted by Jiang Zemin's regime, Australian Minister of Foreign Affairs Alexander Downer signed a certificate to restrict Falun Gong practitioners from conducting peaceful appeals in front of the Chinese Embassy. He also ordered federal police officers to remove practitioners' banners. He claimed the Falun Gong banners and practice music infringed upon the dignity of Chinese delegation and the Chinese Embassy.
Since then, Downer has signed special 30-day certificates for 49 consecutive months. Practitioners have made great efforts to communicate with the Ministry of Foreign Affairs, but they have not obtained a positive reply. They had no other way but to seek legal channels to safeguard their rights. On June 8th, 2005, Falun Gong practitioners in Australia filed a lawsuit against the Foreign Minister at the Australian Capital Territory Supreme Court in Canberra. The lawsuit seeks an injunction to stop Mr. Downer from using Diplomatic Privileges and Immunities (DPI) Regulations in preventing the displaying of Falun Gong banners and the playing of amplified music outside the Chinese Embassy in Canberra.
You are welcome to print and circulate all articles published on Clearharmony and their content, but please quote the source.