The Seventh Globe to Globe World Music Festival was held in Namatjira Park, Kingston. The two-day programme was full of a variety of activities, including live performances, handicrafts, ethnic food booths, and fireworks. Falun Gong practitioners were invited to participate in this celebration to demonstrate Chinese traditional culture.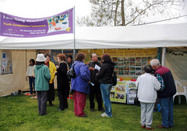 People come to the practitioners' booth to learn the facts
On the afternoon of September 9th, practitioners presented a half-hour programme, including a waist drum performance, a ribbon dance, a Tang Dynasty Costume dance, fan dancing, demonstration of the five sets of Falun Gong exercises, and two songs, all showing the grace of Chinese traditional culture.
The practitioners also set up two booths, one for Falun Dafa introduction literature and the other to teach people how to fold paper lotus flowers. The location of the booths was good. Many people came to learn the exercises. Children came to learn how to fold lotus flowers. When the children listened to stories about the persecution while folding paper flowers, their parents learned the facts of the CCP's brutal persecution.
Many people often surrounded the two booths. Among the flyers on the table, the one that people picked up most was the "Nine Commentaries on Communist Party." Two police officers came to ask for the brochure and listened to a practitioner's truth-clarification. One ten-year-old boy ran to the booth and asked the meaning of the words on banners, such as "kidnapping." The boy asked, "Why are people persecuted for practising the exercises and meditation, and believing in Truth-Compassion-Tolerance?" It was hard for this innocent child to understand the CCP's evil nature.
Many Kingston people learned the facts of Falun Gong during the two-day event.
Kingston is well known for its diversity. The population of 136,000 is made up of people from 39 different countries. In Clarinda and Clayton South, two suburban areas in north Kingston, 60 percent of the residents were born in non-English-speaking countries. The Seventh Globe to Globe World Music Festival was sponsored by the City of Kingston and was free to the public. Catherine Franklin, the organiser of the event, said when interviewed by New Tang Dynasty TV that this opportunity to exchange music, art, and food allows people from different cultural backgrounds to increase their understanding of each other.
You are welcome to print and circulate all articles published on Clearharmony and their content, but please quote the source.