"Human dignity cannot be divided on our small planet. Different religious communities and members of democratic societies have to get together to protect those who are oppressed like Falun Gong, otherwise numerous existing dictatorships will continue to oppress people around the world," said Mr. David Kilgour in his speech during a forum in Sofia, the capital of Bulgaria, on April the 3rd 2007.
Mr. Kilgour was invited by the Bulgarian Helsinki Committee in order to present his Revised Report into Allegations of Organ Harvesting of Falun Gong Practitioners in China entitled "Bloody Harvest", written in cooperation with reputable Canadian human rights lawyer Mr. David Matas. This independent report has been introduced and received strong support in more than thirty countries around the world, as well as the United Nations and the European Parliament.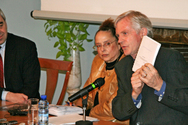 David Kilgour (right) presents the revised report in Bulgaria
The investigation was published on the 6th of July 2006 and updated in February 2007 after new evidence was discovered. The report presents thirty three different kinds of proof that organs are being harvested from Falun Gong practitioners in China, including interviews with witnesses, data of blood tests taken from prisoners, and records of telephone conversations with hospitals in China, offering organs usually available in one or two weeks.
Mr. Kilgour emphasised that Falun Gong is practised in seventy eight countries but only in China is it banned and persecuted. In his opinion, the Communist propaganda machine incites religious hatred towards Falun Gong not only in its own people but also in developed democratic countries, which is unlawful. The former Canadian state secretary for Asia and Pacific and MP, said that everywhere he has been while presenting his report, he has met with practitioners who are "kind and good people, exemplary citizens, whose principles are truthfulness, compassion, tolerance."
According to Mr. Krasimir Kanev, the chairman of the Bulgarian Helsinki Committee, the report was "distressing and it speaks about things practised by a regime well known in Bulgaria – the Communist, totalitarian regime - which doesn't tolerate any resistance, nevermind what it is based on." He stated explicitly his "profound shock when he read the report, as what is described there is similar to genocide."
For those who don't believe that in China organs are harvested from practitioners, or the evidence presented in the investigation, Mr. Kilgour reminded them that in the middle of the last century one Jewish person who escaped from Auschwitz, declared that people were killed there but no one believed him. Many years later, those facts became known all over the world. The former Canadian politician said that he and Mr. Matas were, while writing their report, as shocked as those who read it. He appealed to the public to raise this issue and not let such atrocities, described in the report as a "new form of evil", to continue into the 21st century.
Mr. Kilgour said that the Olympic Games should not be held in a country which kills its own people. He and Mr. David Matas wrote a letter to the IOC chairman, Mr. Jacques Rogue, appealing to him to reconsider China's human rights record, as well as to put pressure on China to improve human rights, as promised while applying to be the host of the Games.
Fourteen members of the media, including two Chinese reporters from Xinhua and Economic daily, came to the forum and asked questions. In some of the electronic and print media, preliminary information about the forum was published. The Bulgarian national information agency (BTA) also published an announcement about the event.
Mr. Kilgour met Mr. Ivan Ivanov, MP from the Democrats for a Strong Bulgaria, who has supported Bulgarian practitioners of Falun Gong on many occasions. Although he couldn't attend the forum, he wrote a short address which was read to the audience stating his support and appealing for an end to the crimes of the Communist regime in China. Mr. Kilgour also met with the Honorary Counsel of Canada in Bulgaria Mr. Levon Hamparcumian.
You are welcome to print and circulate all articles published on Clearharmony and their content, but please quote the source.