Recently, the Chinese Communist Party (CCP) regime has intensified arrests and persecution of Falun Gong practitioners under the excuse of "preparation" for the Olympic Games. In order for more Japanese people know about the CCP's persecution of Falun Gong and help stop it, the Japanese Branch of the Global Mission to Rescue Persecuted Falun Gong Practitioners initiated a car tour in Northern Japan. The tour called attention to the CCP's recent round of persecution of Falun Gong practitioners and promoted the million signature movement initiated by the CIPFG (Coalition to Investigate the Persecution of Falun Gong).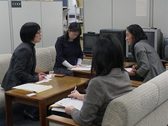 Press conference hosted by the Global Mission to Rescue Persecuted Falun Gong Practitioners introduces the car tour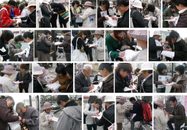 People sign a petition objecting to the CCP's persecution of Falun Gong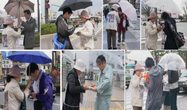 People sign the petition in the rain
The week-long car tour started on March 24th and ran through March 31st, 2008, passing through five counties. Wherever the tour went, people showed strong support and many signed the petition calling for an end to the persecution. More than three thousands signatures were collected.
Ms. Tian who participated in the tour said that people in the five counties were very kind and readily signed the petition after reading the poster board or listening to a recorded introduction about the signature collection. Even rain didn't keep people from signing the petition. Police on duty at the event were surprised to see people's active participation. They said it was the first time for people to react so positively to an event like this. One police officer indicated that he supported the tour from the bottom of his heart though he could not sign the petition himself since he was on duty. Several press conferences were held along with the car tour. Some local reporters expressed their interest and inquired about further details on the persecution of Falun Gong in China.
You are welcome to print and circulate all articles published on Clearharmony and their content, but please quote the source.