May 13, 2009, was the seventeenth anniversary of Falun Dafa's public introduction and the tenth "World Falun Dafa Day." May 13, 2009, was also the 58th birthday of the founder of Falun Dafa, Mr. Li Hongzhi.
Seventeen years ago today, Mr. Li Hongzhi opened the first session of Falun Gong seminars in Changchun City, Jilin Province, introducing Dafa to the public and unveiling the beginning of the spread of Dafa throughout the world. Falun Dafa guides people to cultivate their xinxing to be good people according to the characteristics of the universe, Truthfulness-Compassion-Forbearance, fundamentally eliminating illnesses, cleansing people's hearts, purifying their souls, and leading people on the path to returning to their original, true selves. Within seven years, Dafa had spread widely across China. More than one hundred million people practised it. In March 1995, Mr. Li Hongzhi was invited to impart his teachings in France, which was the beginning of Mr. Li's public introduction of Falun Dafa overseas.
However, since July 1999, the Chinese Communist Party has carried out a brutal persecution of Falun Gong practitioners. Over nearly a decade of cruel persecution, Dafa disciples have remained steadfast in their righteous belief, demonstrated and spread the goodness of Falun Dafa, and called for conscience and justice. Falun Dafa's main book, Zhuan Falun, has been translated into 38 languages, and more translations are in the works. Falun Dafa has been spread to 114 countries and regions around the world. Governments, groups, and organisations have issued proclamations, adopted resolutions, and proclaimed "Falun Dafa Month," "Falun Dafa Week," and "Falun Dafa Day," among the many forms used to express their support for Falun Dafa.
In May 2000, in order to commemorate this great day when Dafa was introduced to the public for the first time, Falun Dafa Associations from different countries jointly decided to designate May 13 as "World Falun Dafa Day".
From Greenland to New Zealand's South Island, from Northern Europe to Africa, from the Himalayan foothills to the side of Sun Moon Lake, from the banks of the Rhine to the Statue of Liberty, from Capitol Hill to the Palais des Nations, Falun Dafa's peaceful exercise music could be heard.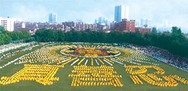 More than 5,000 Falun Gong practitioners formed a Falun Emblem and Truthfulness-Compassion-Forbearance in Wuhan, China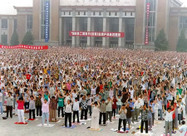 In May 1998, more than ten thousand practitioners did the exercises in unison in Shenyang City, China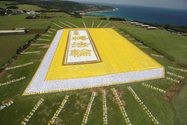 On May 9, 2009, 6,000 Taiwan practitioners lined up on Puding Prairie, in Kenting Scenic Area, southern Taiwan, to form a three-dimensional image of Zhuan Falun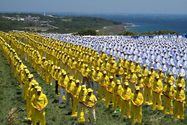 On May 9, 2009, more than 6,000 practitioners did the exercises in unison on Puding Prairie in Kenting, southern Taiwan to celebrate the 17th anniversary of Falun Dafa's public introduction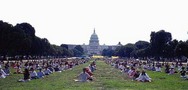 Practitioners do the exercises in unison in Washington, DC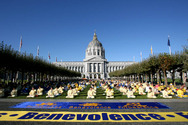 Practitioners do the exercises in front of City Hall in San Francisco
Practitioners do the exercises together in Toronto, Canada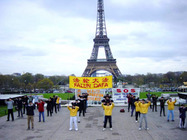 Practitioners do the exercises under the Eiffel Tower in Paris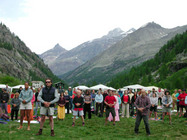 Practitioners in Italy do the exercises at the foot of Grand Paradise Mountain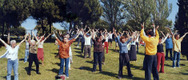 Groups of visitors come to learn Falun Gong at the nationwide Health Expo in Spain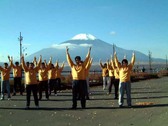 Practitioners in Japan do the exercises together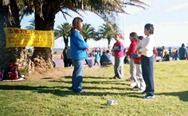 Practitioners in Uruguay introduce Falun Dafa and teach the exercises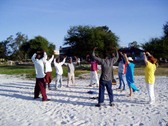 A practitioner teaches the exercises in Dar es Salaam, capital of Tanzania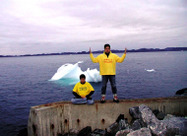 In Greenland on the edge of the Arctic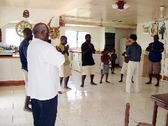 Former Prime Minister of Papua New Guinea, an island country in the South Pacific, and his family learn to practice Falun Gong
Since Dafa was introduced to Taiwan in 1995, over one thousand practice sites have been established in over three hundred cities and towns across the country, with nearly 700,000 practitioners from all walks of life.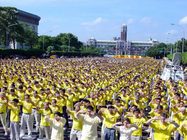 On November 15, 2003, nearly ten thousand practitioners did the exercises together in front of the Office of the President in Taiwan
On May 13, 2007, 5,000 practitioners formed characters reading "Respectfully wish revered Master a Happy Birthday" in front of Chung Cheng Memorial Hall in Taipei, Taiwan.
In India, Falun Gong practice sites can be found in a number of big cities, including Mumbai, New Mumbai, Pune, Hyderabad, Bangalore, and New Delhi. Falun Dafa has been well received by the education community. In Bangalore, teachers and students in over 80 schools practise Falun Gong, and students do the Falun Gong exercises in unison in their PE classes. Lunyu in Falun Dafa's main book Zhuan Falun was compiled into an English textbook and placed at the front page. Teachers and students from schools in remote areas also practise Falun Gong.
Lunyu in the book Zhuan Falun is compiled into an English textbook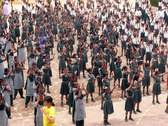 An Indian practitioner teaches the Falun Gong exercises at a school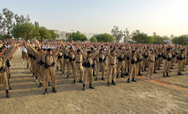 On April 13, 2009, more than 1,000 students of the Police Training Academy in Delhi learned to practise Falun Gong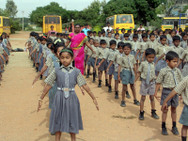 Teacher and students in the Byreshawara School in Bangalore do the Falun Gong exercises in unison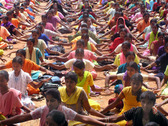 1,200 students of a public school for girls in India learn to do the Falun Gong exercises
Based on reports on Falun Dafa activities held in different places, practitioners' cultivation experience sharing articles and Dafa disciples' holiday greetings to Master Li Hongzhi published on the Minghui/Clearwisdom website, Falun Dafa has been spread to 31 countries and regions in Asia, 21 countries in the Americas, 47 countries in Europe, 3 countries in Oceania, and 12 countries in Africa.
The following are countries and regions where Falun Dafa has been practised:
The Americas (21)

The United States

Canada

Cuba

Peru

Mexico

Brazil

Argentina

Chile

Venezuela

Nicaragua

Panama

Colombia

Bolivia

Paraguay

Uruguay

Guatemala

Dominican Republic

Ecuador

Costa Rica

Honduras

Belize

Asia (31)

China

Taiwan

Hong Kong

Macao

Japan

Korea

India

Singapore

Malaysia

Indonesia

Thailand

Vietnam

Burma

Cambodia

Bangladesh

Philippines

Sri Lanka

Afghanistan

Saudi Arabia

United Arab Emirates

Iran

Iraq

Israel

Syria

Uzbekstan

Tajikistan

Turkmenistan

Kyrgyzstan

Lebanon

Nepal

Northern Mariana Islands

Europe (47)

The UK

Ireland

Holland

Belgium

Luxembourg

France

Germany

Austria

Switzerland

Iceland

Denmark

Norway

Finland

Portugal

Spain

Italy

The Vatican City State

Sweden

Greece

Czech Republic

Slovakia

Hungary

Russia

Belarus

Poland

Latvia

Lithuania

Moldova

Serbia and Montenegro

Croatia

Ukraine

Montenegro

Macedonia

Monaco

Malta

Bulgaria

Estonia

Georgia

Azerbaijan

Albania

Romania

San Marino

Turkey

Slovenia

Kazakhstan

Armenia

Bosnia and Herzegovina

The Oceania (3)

Australia

New Zealand

Papua New Guinea

Africa (12)

Egypt

South Africa

Mauritius

Namibia

Uganda

Kenya

Ethiopia

Sudan

Congo

Tunisia

Morocco

Tanzania
You are welcome to print and circulate all articles published on Clearharmony and their content, but please quote the source.