On June 20th, 2009, the Sixth Annual Garland Asian American Festival was held in front of the Saigon Mall in Garland, Texas. The Festival host again invited Falun Gong practitioners from Dallas to demonstrate the beauty of Falun Dafa to the Asian population.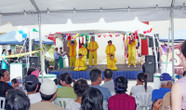 Falun Gong practitioners demonstrate the exercises at the Sixth Annual Garland Asian American Festival in Garland, Texas
It was really hot, but the crowd at the Festival did not seem to mind. The parking lot next to the Saigon Mall was packed. Visitors gathered under a large tent and enjoyed the participants' performances. According to the host, the activity attracted 15,000 people. The participating organisations were mostly local and non-profit organisations. The hosts at the Festival spoke both Vietnamese and English.
Falun Gong practitioners have been actively participating in the Festival in the past few years. They set up booths, distributed Falun Dafa fliers, and demonstrated the exercises. Many people came and took the fliers. Some of them asked for more information and were interested in the practice.
A practitioner sang "The Fa Rectifies the Universe." The practitioner's pure and powerful voice impressed the audience and won warm applause. A Vietnamese practitioner greeted the audience and introduced to them Falun Dafa in Vietnamese. Later, several practitioners in traditional meditation practice suits demonstrated the movements to the relaxing exercise music.
You are welcome to print and circulate all articles published on Clearharmony and their content, but please quote the source.