At 9 a.m. on October 1, 2011, Falun Dafa practitioners in Sweden commenced their annual cultivation experience sharing conference in Stockholm. Practitioners came from all over Sweden and shared their cultivation experiences.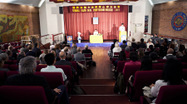 The 2011 Falun Dafa cultivation experience sharing conference in Sweden
Twelve practitioners presented their experiences during the conference.Their experiences were from different aspects including upgrading the mind, putting down attachments, study the Fa, looking inward, clarifying the truth and saving sentient beings.
Promoting Shen Yun
Ms. Wang from Gothenburg and Ms. Zhang from Stockholm shared their experiences about how they had promoted the 2011 Shen Yun performances in Sweden. Ms. Wang paid great attention to removing the CCP (Chinese Communist Party) culture from her mind, learned western etiquette, and took every chance in daily life to make improvements. In order to promote Shen Yun and to better reach mainstream society, she always considered how to approach mainstream citizens with the heart to have all predestined individuals come to see the Shen Yun show.
Ms. Zhang had opportunities this year to introduce Shen Yun to over 800 influential people and achieved very good effects. She prepared each presentation carefully, and also cooperated well with a fellow practitioner. For example, every time she prepared well so that she could fulfill the task on her own, then she cooperated with her fellow practitioner according to that fellow practitioner's situation during the presentation. She was very glad every time when she saw her fellow practitioner succeed. They not only introduced Shen Yun, but did so with compassion in their hearts. The audience was very warm and receptive. Every presentation brought her and her fellow practitioner indescribable joy and greater confidence.
Increasing sales to save more sentient beings
Another Ms. Zhang from Stockholm shared her experience on how she put down her ego to cooperate with others and did her best to increase sales for the Chinese newspaper, The Epoch Times, with the support and help of the local fellow practitioners. She felt that doing well the advertisement sales was the only way to keep the newspaper in Sweden. Thus she cooperated well with fellow practitioners to develop the market and look for new places to display the newspaper. Recently they established over 10 locations including Chinese food stores and restaurants as well as Swedish supermarkets in the town center and some areas where Chinese families and Chinese students live, and also covering some hotels where Chinese tourists usually stay. In order to secure places to display the paper, she and several other fellow practitioners had to meet those stores' managers three or four times before signing a contract. Moreover, they changed the method of distributing the newspaper. Previously practitioners manually distributed the newspaper to the Chinese customers in every Chinese restaurant. Now those Chinese have been informed of the distribution locations. The circulation of the newspaper is increasing gradually. Also some advertisers have started to compete to advertise in the newspaper, which is a good situation and reflects the positive development of the newspaper.
Following Truthfulness-Compassion-Forbearance and becoming a good person
Munder, 30 years old, is a new practitioner from Borås (a town east of Gothenburg). Despite his Muslim upbringing, he did not believe in an afterlife or care about spiritual matters before he discovered Falun Gong. In 2008, he started reading the book Zhuan Falun [the main text of Falun Dafa practice] which he borrowed from another practitioner who was his colleague. The only reason he read the book was to find out why Falun Gong practitioners were treated so badly in China. He read the preface and was intrigued. Reading the book gave him a sense of peace and he decided to buy the book. When he read the paragraph about the celestial eye, he felt he understood what was described in the paragraph before he read that part of the paragraph. He was surprised by this. After he read through Zhuan Falun for the first time, he stopped swearing. He started to change himself in his workplace. He tried to put down his attachments. He could understand what Master is doing is to save people. He has realized that Dafa is great and also serious. He said that he would continue to follow Truthfulness-Compassion-Forbearance and that was what he felt from his heart.
Cultivation story of a young practitioner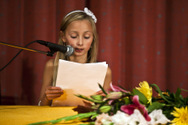 Mira, a young practitioner, shared her cultivation experience
Mira Kleinert is 10 years old. She shared how she and her family traveled around in Sweden on a tour to raise awareness about Falun Gong two years ago. She and her sisters performed dances to demonstrate the beauty of Dafa. Her family traveled to many cities by car. Every day she would dance several rounds. In the beginning her family planned to travel to only three cities, but in the end they stayed on for the whole tour. She felt honoured to have been a part of of it as a Dafa practitioner and thanked Master that she could participate in the event.
At five o'clock in the afternoon, the conference was successfully concluded. Many practitioners who attended the conference expressed that they would cherish this opportunity, study the Fa well, look inward, strengthen cooperation, upgrade together, and strive to save more sentient beings so as not to let down Master's compassionate salvation.
You are welcome to print and circulate all articles published on Clearharmony and their content, but please quote the source.