Dr. Cai is of the Chinese ethnicity who was born in Peru. He is kind-hearted and helpful. As a doctor, he often helps those who cannot afford medical care.
Besides taking care of his clinic, Dr. Cai also hosts a program on the Lima Radio Station. He is a renowned radio host and has a large listening audience in Peru. Last year he learnt about Falun Gong from a leaflet given to him by a patient. He then came to the Falun Gong practice site to learn the set of five Falun Gong exercises where he also bought several Falun Dafa books. He also invited practitioners to his program to introduce the practice to more people in Peru.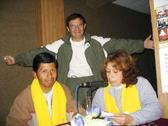 Dr. Cai with Falun Gong practitioners during an interview
At 9 a.m. on the 16th of August, 2004, Dr. Cai invited several Falun Gong practitioners to his studio at Radio Comas. He asked the practitioners to introduce Falun Gong to his listening audience and explain about the brutal persecution of the practice in China. Whilst listening to the facts of the persecution, Dr. Cai was shocked that such a cruel persecution could be occurring in the twenty-first century. At the end of the program, a practitioner sang the song, "Coming for You" in both Chinese and Spanish. The beautiful song was broadcast to tens of thousands of listeners. Dr. Cai heard the song for the first time and was deeply moved. Tears streamed down his face. When the singing ended, Dr. Cai kept silent for a few seconds. He then wiped away his tears and said to his audience, "The song makes me cry because I am deeply touched. Yes, let's remember, Falun Dafa is great! Don't miss this chance!"
Group exercise and group reading of the Falun Dafa books
At 2 p.m. and 3 p.m. of the same day, two other radio stations, Radio Cora and Radio Latina, in which Dr. Cai was also a host, broadcast the the practitioner's sincere voice which said, "Today Falun Gong practitioners are fortunate to live in Peru, where we have freedom. We can practice our meditation on green lawns with serenity and peace in our hearts. However, in China, there are countless brothers and sisters who are persecuted; they have lost their jobs, families and even their precious lives for persisting in their beliefs. Please tell your relatives and friends about Falun Dafa and the brutal persecution of the practice in China. That is the biggest support you can give to Falun Gong practitioners in China."
From the 16th of August to the 10th of September, 2004, Dr. Cai and local Falun Gong practitioners held seven special interviews on three radio stations. Each interview lasted for one hour. At the beginning of each interview, Dr. Cai broadcast the song, "Coming for You." Dr. Cai and the practitioners have scheduled the tenth of each month as a special interview day dedicated to Falun Gong.
After the interview with the Falun Gong practitioners was broadcast, many audience members called in to ask for more information and told the practitioners, "I support you. Falun Dafa is good!"
At the practice site on weekends, people came to learn Falun Gong one after another as a result of listening to Dr. Cai's program. Six practitioners taught the exercises separately. More than eighty people came one time, and many bought Dafa books after learning the exercises and attending the 9-day Faun Gong lecture series containing the teachings of Falun Gong starting on the 1st of September. Among them, one woman had suffered from various illnesses during the last fifteen years and recovered soon after she began practicing Falun Gong. She was very happy and said that it was an amazing feeling to be healthy after being sick for so long.
You are welcome to print and circulate all articles published on Clearharmony and their content, but please quote the source.