On May 30th, 2006, a press conference on the global view of religious freedom in China was held at the European Parliament. The conference was presided over by Mr. Simon Coveney, the human rights spokesperson of EEP-ED Party caucus in the European Parliament and was organised by the Human Rights without Borders, the Friends of Tibet, the World Urumqi Congress, the International Society for Human Rights (Hong Kong Watch), the Belgian Falun Dafa Association, etc. The organisers called on the Chinese government to allow U.N. Special Rapporteur on Freedom of Religion of Belief to evaluate China's religious freedom and investigate into the forced labour camps that imprison followers of various beliefs.

Press conference on the Global View of Religious Freedom in China
At the press conference, representatives of Falun Gong practitioners, Tibetan nuns and Uygurs who have been persecuted by the Chinese Communist regime in China were invited to testify against the Chinese regime's atrocities of the cruel persecution against religions, beliefs and human rights.

Falun Gong practitioner Chen Ying exposes the persecution she underwent in China's forced labour camps.
Ms. Chen Ying, a Falun Gong practitioner who currently lives in France, revealed the persecution she had undergone in China, and the journalists attending the press conference were shocked by her story. With the cruel torture testified by Chen Ying, people further realised the brutality of the Chinese Communist regime's genocidal persecution against Falun Gong groups in China. When exposing the Chinese Communist regime's atrocities, Chen Ying said, "I was forced to work strenuously over sixteen hours every day, making toys, gifts and disposable bamboo chopsticks for export. If I failed to reach the required targets, I would be deprived of sleep. Besides physical abuse, they tortured me spiritually by means of forcing me to view TV programmes and read books that denounce my belief. Furthermore, I was forced to write reflections on what I viewed and read, to sing the songs featuring forced labour camps and to confess that I was guilty. I was also banned from talking to others. They deprived me of my human dignity and personality, forced me to accept brainwashing. I was on the brink of a mental breakdown. The cruel spiritual torture made me feel suffocated, as if I was going to die. With the long-term suffering, I was very weak. The Chinese Communist regime's high profile brainwashing was far beyond the limit I could endure spiritually and physically. I was forced to give up my own belief and to act against my conscience. The spiritual suffering resulting from the brainwashing and the so-called "transformation" was beyond what words can describe. I felt like I was a walking corpse."
The Vice-President of the European Parliament, Mr. Edward McMillan-Scott, attended the press conference. After listening to Falun Gong practitioner Chen Ying's experience about the persecution she underwent in China, he stated, "Last week I went to Beijing and met with Falun Gong practitioners who had been incarcerated. I fully understood how they have been tortured. The accusations against the harvesting and selling of Falun Gong practitioners' organs is a very serious incident. The European Parliament should initiate an investigation into this incident. Personally, I think the Olympic Games should not be held in such a brutal country."
After listening to Ms. Chen Ying's explanation of the persecution she had suffered, Mr. Simon Coveney said, "the European Union has established closer and closer ties with the Chinese Communist regime through various channels, especially on business and trading fronts, as China is the E.U.'s biggest trading partner. Concerning the story we listened to just now, we should be responsible for it. It is the European Union's responsibility and we should not forget the respect for human rights and human dignity. We will try our best to change China's human rights situation, as it is our responsibility."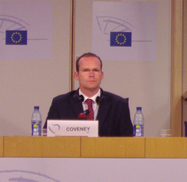 Simon Coveney, human rights spokesperson of EEP-ED Party caucus presides over the press conference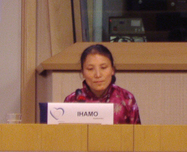 A Tibetan nun Amdol LHAMO explains the persecution she suffered
A Tibetan nun by the name of Amdol LHAMO was imprisoned for twelve years by the Chinese Communist regime for advocating Tibetan cultural and religious activities. She became a Tibetan nun when she started to follow the Dalai Lama in 1989. Since 1990 she has participated in Tibet's cultural and religious promotion activities. In 1992 she was sentenced to six years in prison. Six years after she was released, she was sentenced to another six years in jail. During her incarceration, she was tortured cruelly. Among the Tibetan monks and nuns being imprisoned, some were persecuted to death with cruel torture. But the Chinese Communist regime regarded them as suicide cases and even their family members were not allowed to claim their corpses. She added: "I am now living in a foreign country freely, but Tibetans have no freedom of religion whatsoever in China. In the past, there were many monks and nuns in Tibet's temples, but there are only twenty or so left.
Uygur representative Mr. Erkin Altpekin in his speech said, "Since the Chinese Communist regime started to rule Xinjiang Uygur in 1949, the Uygur people have been forced to live in 5,000 or so small areas separately, and they are not allowed to have their own religions. Uygur children are forced to accept transfers to a Marxist educational system. The 54,000 Uygur clergymen were illegally arrested and imprisoned in forced labour camps for re-education. 29,000 churches are closed. With the Chinese Communist regime's autocratic policy, they are unable to practise their own religion and this policy has also extended to other countries such as Afghanistan."
At the press conference, some people asked that after surviving the incredible persecution in China, how did the Tibetan nun and the Falun Gong practitioner come overseas. Ms. Chen Ying replied that in China, the Chinese Communist regime's purpose of incarcerating Falun Gong practitioners in forced labour camps and prisons is to force them to give up their beliefs and to act against their consciences. To achieve the evil objective, the Chinese regime has used all kinds of cruel methods to physically and spiritually torture Falun Gong practitioners who are steadfast in their beliefs in forced labour camps. When one is steadfast in his belief, normally it would be very hard to regain freedom. She said that, "I am very distressed. The torture I suffered in the forced labour camps was beyond the limit I could endure. Being deceived by the Chinese Communist regime's lies, I acted against my consciences and wrote a repentance statement as requested by the Chinese Communist regime. While writing the statement, I think as all those who live overseas with their own beliefs would know, it is extremely painful for a Falun Gong practitioner to betray his own belief and act against his own conscience. I was in despair. With acting against my own conscience, my physical body was temporarily free, and I was released from the forced labour camp, but my soul was on the path towards death during the process of betrayal."
She continued, "In China, my ex-husband, under pressure from all sides, insisted on divorcing me. As all his colleagues also urged him to divorce me, I was under great pressure that I could no longer stay in China. Based on my experience of staying in France when my ex-husband worked at the Education Department of the Chinese Embassy in France in1998, I went to France as a visiting scholar. In France, I happened to see the photos displayed to expose the facts about Chinese Communist regime's persecution against Falun Gong. It reminded me of all the torture I suffered in China's forced labour camps. I would like to avail myself of this occasion to let people know that in China's forced labour camps and secret concentration camps, without giving up one's belief and conscience, one is faced with death threats at anytime. It is because of the Chinese regime's genocidal policy against Falun Gong that some people are forced to give up their beliefs and act against their consciences so as to survive, but in reality their spirits are dead."
After the press conference, one of the organisers, Nicolas who is the president of the Belgium Falun Dafa Association, told our reporter, "We'd like to take this opportunity to express our worry and concern about the religious freedom in China."
He added, "It is solely a joke for the Chinese Communist regime to proclaim that it has given religions a greater degree of freedom. In fact, the persecution against Falun Gong indicates that what the Chinese Communist regime gives to those who seek spiritual beliefs is not freedom, but intimidation. What the Chinese Communist regime has relied on to subsist in the past several decades was nothing but the policy of horrible suppression. As many people keep silent about the Chinese Communist regime's human right situation due to economic interests, a piece of horrendous news has been exposed, that is, some deadly concentration camps are set up in China. This report has been testified by some people who used to work with China's medical and military institutions. The internal organs of some Falun Gong practitioners incarcerated in these concentration camps were harvested before they died. Organ transplant in China is a lucrative business. After the organs are harvested from living humans, their bodies are cremated to destroy the evidence. Falun Gong practitioners are regarded as class enemies in China. They don't have legal rights and even are not treated as human beings. Their corpses are not allowed to be claimed by their family members; therefore, they are an ideal source of living organ supplies. It is indeed evil. In the meantime, the Chinese Communist regime proclaimed that it has given religions a greater degree of freedom. Isn't it a biggest joke? I hoped that through this press conference, a platform would be established, so that the European Union and the international society are able to take some measures to put an end to the Chinese Communist regime's evil acts."
When interviewed after the conference, the Director of Human Rights without Borders, Mr. Willy Fautre said: "I've engaged in promotion of freedom of religion for thirty years, and I started to be concerned about freedom of religion in communist countries in 1970. Last year, I got an opportunity to meet with people from house churches and dissidents during my visit to China. In the past years, I have kept in touch with Falun Gong practitioners in west European countries. As to Dalai Lama's visit to Belgium tomorrow, in particular his visit to the European Parliament, and the Olympic Games to be held in China two years later, I think they will be good opportunities for European political policy-makers and the international society to understand the Chinese Communist regime's persecution against religious groups including Christianity, Falun Gong, Tibet, etc." He added: "In terms of harvesting organs from living humans, I think we should expose the Chinese regime's despicable human rights record to the people around the world. If the Chinese Communist regime doesn't allow the U.N. to deploy journalists to China, it indicates that they have something shameful hidden away."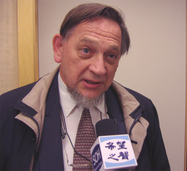 Andre Buyse, Vice President of the French Journalist Association's Belgium Branch Office is interviewed by reporters
After the press conference, we interviewed Mr. Andre Buyse, Vice President of the French Journalist Association's Belgian Branch Office, who has been to China sixteen times. As to China' human rights situation, he expressed regret over the matter. After listening to the testimonies given by the witness who were persecuted in China, he said, "In China, we found that people do not have true freedom. It is lamentable that recently the Chinese Communist regime ordained two Catholic bishops without Vatican approval and suppressed Falun Gong practitioners and other religions' followers. I hoped that the mass media are able to expose the facts about these incidents."
You are welcome to print and circulate all articles published on Clearharmony and their content, but please quote the source.