Three Singapore Falun Gong practitioners (Chinese National Chen Pei Yu, and two Singaporeans Ng Chye Huay and Erh Boon Tion) were charged by the police for conducting a peaceful protest outside the Chinese Embassy on July 20th, and the trial was set to start on August 28th. On August 17th, however, the Subordinate Courts suddenly dropped the charge against Ms. Chen Pei Yu, and the Immigration and Checkpoints Authority wanted to deport her back to China. Ms. Chen is 73 years old and has been living with her daughter in Singapore for more than 2 years.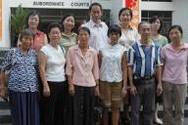 Ms. Chen Pei Yu, first from the left in the front row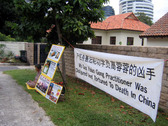 Ms. Chen protesting the persecution outside the Chinese Embassy in Singapore
Time Line
August 10th -- On her way to shop for groceries, Ms. Chen was taken away by officials from the Immigration and Checkpoints Authority. She was told that her green card was suspended and she has to leave Singapore by August 17th. Ms. Chen told the officials that she was awaiting trial and couldn't leave. However, the officials did not pay any attention to her.
In his letter to Ms. Chen, Mr. Eric Tan, Director of the Immigration and Checkpoints Authority, wrote: "Chen is "unwelcome" in Singapore because her participation in a protest outside the Chinese Embassy violated the 'Assembly without Permit' and 'Public Recreation' regulations."
August 12th -- Ms. Chen hired human rights attorney Mr. Ravi to handle the issue. Mr. Ravi immediately wrote to the Immigration and Checkpoints Authority. He pointed out that the decision violated related laws and he requested an extension so that Ms. Chen could attend the trial.
Mr. Ravi emphasised that Ms. Chen is not only one of the three defendants but is also a material witness for the other two defendants Ng and Erh, and her absence will harm their case.
As Mr. Ravi is now representing Ms. Chen on this issue, the three defendants decided to hire him to represent them in their lawsuit as well.
August 16th -- At 11:00 p.m., Ms. Chen Pei Yu suddenly received an urgent notice from the police authorities, notifying her that the court will open at 4:00 p.m. on August 17th to process her case.
August 17th -- Ms. Chen was originally ordered to leave Singapore by 4:00 p.m. (conflicting with the court schedule). The court announced that the charge against Ms. Chen was dropped. However, it refused to give an explanation.
Around midnight, Ms. Chen received 23 copies of the "Notification of Dropped Charge" urgently delivered by the police authority. Sixteen of the 23 were signed by Tanglin Police Divisional HQ and seven were signed by the Central Police Divisional HQ. Every copy stated that the police had decided to terminate the investigation of her case and issued a severe warning to her after deliberate consideration and consultations with the prosecutor.
Ms. Chen often distributed Falun Gong truth-clarifying materials at the Chinese Embassy, Chinese Kwan Imm Temple, and Merlion Park. These locations are under the jurisdiction of the Tanglin Police Divisional HQ and Central Police Divisional HQ, and police officials have been monitoring practitioners' activities. Recently, they often took photos or videotaped practitioners and then "established a case" to investigate them. Each of the 23 reports corresponds to one truth-clarifying activity.
The Immigration and Checkpoints Authority extended Ms. Chen's stay to August 21th.
August 18th -- Attorney Ravi filed an application to the Subordinate Courts to request to have Ms. Chen as a witness in the lawsuit against the three practitioners, and the application was approved. Based on this court decision, Ms. Chen will then apply for an extension to the Immigration and Checkpoints Authority.
On the same day, the Singapore Falun Dafa Association held a press conference, and Ms. Chen told reporters: "I don't want to accept this dropping of charges without an explanation. If the authority thinks that the charge was wrong, it should drop the charge against all three of us. Otherwise, it should give me the opportunity to defend myself. This action by the Singapore authority is very strange. What on earth are they worrying about!?"
You are welcome to print and circulate all articles published on Clearharmony and their content, but please quote the source.