Mr. Wang Shoushan, Falun Dafa practitioner from Juxian, Shandong province, was arrested by 610 Office1 personnel in Juxian on March 7th, 2006. They kept him at the Juxian Detention Centre, the Wangcun No. 2 Forced Labour Camp in Shandong, and the "Law Enforcement Centre" (a brainwashing centre) in Shandong and other places, where he had to perform forced labour and was subjected to brainwashing. Due to this persecution, Mr. Wang became seriously ill. He was diagnosed with liver cancer, and the Juxian 610 office released him in order to avoid responsibility. Mr. Wang passed away around September 6th, 2006.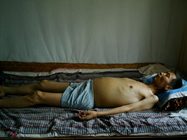 Mr. Wang Shoushan lying in bed and unable to care for himself after being released
Mr. Wang Shoushan, 58, was the chief doctor at the Chinese Medicine Department of the People's Branch in Juxian People's Hospital, Rizhao City, Shandong Province. Mr. Wang was arrested at around 10 a.m. on March 7th, 2006. At the time, he was at his workplace, and he was taken away by the Juxian 610 office leader Liu Yanping, a 610 officer whose last name is Zhao, and Wang Kuiyuan, chief of the Xiaodian County Police Station.
Liu Yanping forced Mr. Wang to take them to his home, where they confiscated his family's property. They even stopped a member of this family, Wei Yuqing, from entering the home. They searched Mr. Wang's home and confiscated most of his leaflets exposing the persecution about Falun Dafa. They also took a 21-inch colour TV (worth more than 2600 yuan2), a VCD player (700 yuan), and a tape recorder (75 yuan).
Mr. Wang Shoushan was arrested and taken to the Juxian Detention Centre, where they detained him for 27 days. He was forced to work from 6 a.m. until 6 p.m. each day. He had to do jobs such as folding gloves, peeling onions, and cleaning peanuts. They did not give him enough food to eat during the entire time he worked there. In the morning they gave him two small buns with cold water. At noon they gave him only one bun with water and two buns in the evening with cold water.
On the morning of April 2nd, they sent Mr. Wang to the Wangcun Second Forced Labour Camp in Shandong for six days of "transformation3" and brainwashing. Then they sent him to the Shandong "Law Education Centre" for more torture and brainwashing sessions.
Constant hunger and heavy forced labour, plus many days of brainwashing, severely harmed Mr. Wang's health, both physically and mentally. He became very ill. On April 11th, he was sent to a hospital for an examination and was diagnosed with liver cancer. Shirking their responsibilities, the doctors at the hospital told Mr. Wang's employer to take him back on April 12th. Mr. Wang was a very healthy man before they arrested him.
In order to cover up their crimes, the Juxian 610 Office gave Mr. Wang infusion treatments for two days, but his condition worsened. The hospital administrator Pang Zunqiao then took Mr. Wang to the Juxian Centre Hospital for medical tests, which then showed that he had a malignant tumour on the upper right lobe of his liver. Mr. Wang's family and everyone who knew him were shocked that a perfectly health man could be abused to the point of such serious illness within a span of a month.
In addition to the brainwashing sessions, the authorities also persecuted him financially. They required that he pay 3,000 yuan up front, and even forced his son to accompany him. Every day they were charged about 100 yuan. They charged him more than 1,300 Yuan for brainwashing him for eleven days.
On March 7th, 2006, the Juxian 610 Office arrested a member of his family Wei Yuqing, who is also a Falun Dafa practitioner. They put her in the Juxian Detention Centre for ten days, fined her 1,000 yuan, and forced her to pay daily expenses of 20 yuan. The detention centre also forced them to pay for "study materials." A female Falun Dafa practitioner named Feng Zaifang, from Xiaodianzhen Jinduncun, was also illegally arrested as a part of the same "case." They detained her for fifteen days and fined her.
After they released Mr. Wang Shoushan, he returned home but never recovered. He suffered from swelling in the abdomen and could no longer take care of himself. He passed away around September 6, 2006.
On September 12th, 2006, one week after Mr. Wang Shoushan died as a result of persecution, the Juxian 610 office arrested four more local Falun Dafa practitioners. The people at the 610 office tried to find out who sent the message about the persecution of Mr. Wang to the Minghui website. These four practitioners are Ms. Wang Shuping, about 60, a retired teacher; Ms. Feng Zaifang, in her 50s; Mr. Pang Xiangdong, in his 40s, and his wife, in her 40s. Mr. Pang's wife showed symptoms of a serious illness and they released her the same afternoon. The other three practitioners are detained at the Juxian Detention and brainwashing centre, and are being tortured.
Related phone numbers:
Administrator of the Xiaodian Hospital, Pang Zunqiao, 86-633-6218316 (available after 8:00 in the evenings)
Administrator of the hospital: 86-13806332711 (Mobile)
Doctor Feng: 86-634-6492366 (Laigang)
Chen Youbao (director of the school): 86-13563319690 (Mobile)
Xiaodian Police Station: 86-633-6661015

Note
1. "The 610 office" is an agency specifically created to persecute Falun Gong, with absolute power over each level of administration in the Party and all other political and judiciary systems.
2. "Yuan" is the Chinese currency; 500 yuan is equal to the average monthly income of an urban worker in China.
3. "Reform or Transform" Implementation of brainwashing and torture in order to force a practitioner to renounce Falun Gong. (Variations: "reform", "transform", "reformed", "reforming", "transformed", "transforming", and "transformation")

Chinese version available at http://www.minghui.org/mh/articles/2006/9/25/138610.html
You are welcome to print and circulate all articles published on Clearharmony and their content, but please quote the source.