The Administration of Mudanjiang City Prison in Heilongjiang Province used its influence to delay the release of Mr. Kong Xiangzhu. On April 18th, 2007, when he was beyond help and dying, Mr. Kong was released. He died two months later.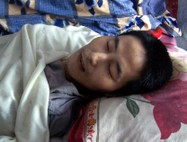 Mr. Kong Xiangzhu died
Falun Dafa practitioner Mr. Kong Xiangzhu lived in the Jianshan District, Shuangyashan City. He grew up in a very poor family. He used to be very weak before he started cultivation. He could not work and was bedridden. He became healthy and strong after starting to practise Falun Dafa at the age of 28.
On the evening of May 1st, 2002, police officers deceived Mr. Kong Xiangzhu into going to a construction site and arrested him. They claimed he had been involved in tapping into cable TV to broadcast the truth about the persecution. When his family heard he was being resuscitated in a hospital, they rushed to the hospital, but he was already in an operating room. His whole body was covered with bruises, and his back had been burned due to electric baton shocks. The flesh around his neck had separated from his bones.
In June 2006, Mr. Kong was diagnosed with severe tuberculosis in the Tenth Ward of Mudanjiang City Prison. He was unconscious. By July 2006, after being treated outside the prison, he was still in critical condition. He could not move his lower body or take care of himself. He sometimes was mentally confused.
His family requested to have him released due to his critical condition. The Prison Administration deceived his family by promising to have him bailed out on medical parole, but they did not process the paperwork for several months. The Yonghong Police Station refused to accept his files, claiming that Mr. Kong Xiangzhu's residential registration was not in their files. Mr. Kong therefore did not get treatment at this critical time.
After ten months of unrelenting effort, Mr. Kong's family secured his release after having five thousand yuan1 extorted from them. Mr. Kong was as thin as a skeleton and unconscious.
After two miserable months, Mr. Kong Xiangzhu died on the evening of June 23rd, 2007.
Personnel responsible for Mr. Kong's death:
Yonghong Police Station in Jianshan District, Shuangyashan City: 86-469-4248763
Chief of Police of the Jianshan District Department Zhai Shengli (male): 86-469-4288304
Police officers Du Yongbo and Men Yongfeng (both male) of the Jianshan District Department
Interrogation Office Head Huang Dechen (male) of Jianshan District Department: 86-469-4273152
Shuangyashan City Police Department 610 Office: 86-469-4233106
Jianshan District Court Hed Judge Jiang Feng (male): 86-13349336099 (Mobile)
Prison Operator: 86-453-6404715, or 86-453-6404755,
Prison Director Chen Shougang (male): 86-453-6404715-8000, ext.-8388, 86-13904676888(Mobile)
Prison CCP Director Yu Jinghe (male): 86-453-6404715-8000, ext-8388, 86-13904835888 (Mobile)86-13904935558 (Mobile)

Note
1. "Yuan" is the Chinese currency; 500 yuan is equal to the average monthly income of an urban worker in China.
Chinese version available at http://minghui.ca/mh/articles/2007/7/5/158232.html
You are welcome to print and circulate all articles published on Clearharmony and their content, but please quote the source.