May 13, 2012 was the 13th World Falun Dafa Day. This year is the 20th anniversary of Falun Dafa's introduction to the public. It is the season for cherry blossoms at the end of April and early May at the Royal Park in Stockholm, Sweden.
As the celebrations approached, on April 28, Falun Gong practitioners in Sweden demonstrated group exercises in front of Stockholm's spectacular City Hall and under the Royal Garden's beautiful cherry trees, celebrating the upcoming 13th Annual World Falun Dafa Day, and also the 61st birthday of Falun Gong's founder, Master Li Hongzhi. Practitioners took group photos to thank the benevolent Master for his compassionate salvation.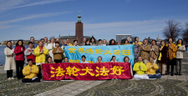 Practitioners in Sweden celebrate the 20th anniversary of Falun Dafa's public introduction
| | |
| --- | --- |
| | |
| Demonstrating the exercises under the cherry trees in the Royal Garden | Demonstrating the exercises in front of Stockholm's spectacular City Hall |
They came from different cities and different occupations. There were King's-award-winning entrepreneurs, company presidents, as well as ordinary members of society. There were veterans who had been practising for nearly two decades as well as new practitioners who just started less than two years ago. The vast majority of them are westerners, who have come together because of their common belief in "Truthfulness-Compassion- Forbearance". They have walked through ups and downs for thirteen turbulent years to help end the persecution. On this special day, practitioners shared with praise and thanksgiving the changes in mind and body and the joy and happiness cultivating Falun Dafa had brought them.
King of Sweden Award Winner: If I had not practised Falun Gong, I would not be able to perform in my current job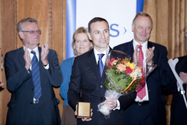 King of Sweden award winner, company CEO and director Mr. Vasilios Zouponidis
Company CEO and director Mr. Vasilios Zouponidis won the 2011 "New Entrepreneurs' Pioneer Award", which was presented to him by Swedish King Carl Gustaf XVI. Mr. Zouponidis learned about Falun Gong from the Internet and started cultivation.
He said: "In the spring of 1998, I came across Falun Gong's website on the Internet. I downloaded all the books, which my wife and I spent an entire weekend reading. Then we went to a nearby Falun Gong practice site and began practising. Through cultivation I found inner peace. My health improved significantly. My back pain, pollen and dust allergy, and stress-induced stomach problems have all disappeared. Most importantly I found the real meaning of life. "
He added: "If I hadn't practised Falun Gong, I absolutely would have not be able to perform in my current job. My company is successful only because I am a practitioner, and act in accordance with the principles of 'Truthfulness-Compassion-Forbearance'. This is all thanks to the Master and Dafa, absolutely! "
Graphic Designer Jens Almroth: This is what I have been looking for
Graphic designer Jens Almroth emotionally shared with everyone his joy when he found Falun Dafa. He said: "On the day I found the two books Zhuan Falun and Falun Gong, I knew that I did not have to look any more. I was almost stunned. Really, at that moment I was overjoyed yet a little afraid, because I knew this road would not be easy, but this was what I had been looking for."
Since Jens started practising Falun Gong, he strives to act in accordance with Master's teachings in the books when he runs into conflicts with others. He has become more peaceful. He said with a smile: "When I was young I used to quarrel a lot with my father, sometimes very fiercely. Once he called and was very angry about something. We were about to get into another fight. Instead of arguing with him that time, I listened patiently while at the same time looking inward to see what I could have done wrong in what he was complaining about. Then he calmed down, and we could talk like friends again. I found that when I am very calm, I have wisdom and am able to make better decisions. "
Korean in Sweden: I can finally go home!
Bolette Ebertz was a veteran practitioner who participated in the class Master Li Hongzhi held in Gothenburg in April 1995. She had practised a lot of qigong and been looking all her life without finding what she wanted. Later she gave up the search. She said: "I thought at that time perhaps I would not be able to find what I wanted through my own searches. Perhaps I needed to wait patiently and one day it would find me."
In April 1995 Master Li Hongzhi held a Falun Gong seminar in Gothenburg. When she heard the news, Bolette could not hold back her tears. Whenever she recalled the scene at that time, Bolette could not help but be emotional. She said with tears: "When I first met Master, I knew that I could finally go home. I think no one could really understand how profound or how magnificent Dafa is! It is so immeasurable. I cannot comment on someone who has given me my life and given so many people new lives. I am at a loss for words. Dafa is all I've got."
Practitioners in Sweden have a group photo taken to thank revered Master for his compassionate salvation
In May 1992, an ancient Eastern practice ─ Falun Dafa, was first taught to the public in China. With principles of "Truthfulness-Compassion-Forbearance" and miraculous effects on healing and fitness, Falun Dafa, also known as Falun Gong, has given hundreds of millions of people physical and mental health, and led them onto the path of cultivation.
In Falun Dafa's wide spread around the world, Sweden was one of the first stops overseas. The Swedish website offers free books and exercise teaching videos. Falun Gong books are available in libraries and book stores. Swedish secondary school textbooks also have information about Falun Gong and the persecution it suffers in China. Many Swedes got to know Falun Gong and started cultivation through the introduction of other Falun Gong practitioners or through the Internet.
Some also took part in the seminar Falun Gong's founder, Master Li Hongzhi, held in Gothenburg in April 1995, and started cultivation then. Falun Gong has more than 30 practice sites in various cities across Sweden.
Many western practitioners said: "We are the beneficiaries of Falun Dafa. The Chinese Communist Party's slander against Falun Gong cannot shake our will to practice. We will live up to the Master's compassionate salvation. The seeds of 'Truthfulness- Compassion-Forbearance' are deeply rooted in our hearts."
You are welcome to print and circulate all articles published on Clearharmony and their content, but please quote the source.