Natalia Basdeki is an artist in Greece. She designs and makes jewellery from gold and silver. Her creations are unique, elegant and simple. She has many customers from Europe, Asia and America.

Ms. Basdeki was born in 1982 in Greece. She studied Fine Arts and Design at Vakalo / Derby School Of Arts in Athens and Goldsmiths at Central Saint Martin's in London. Since 2007, she has shown her creations at exhibitions, galleries and shops around the world.

On her official website, one can read many of her creations were inspired by her cultivation of Falun Dafa.

Falun Dafa (also called Falun Gong) is one ancient Chinese cultivation method for the mind and body. The foundation of practice is "Truthfulness, Compassion and Forbearance" which are regarded as the fundamental nature of the cosmos.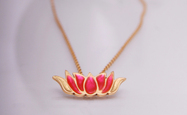 The lotus flower is the symbol of purity, associated with beauty, spiritual awakening and faithfulness. The flower is considered pure, as it is able to emerge from murky waters in the morning and be perfectly clean. (www.nataliabasdeki.com)
"The practice has brought me back to the essence of my true self. I have always been interested in the micro cosmos. A piece of jewellery is like a small beautiful world, a look from the internal to the external."

The art of jewellery is a rich world of miniature beauty; an internal look made external, it is an art that exhibits the artist's inner self to the world outside. Ms Basdeki therefore tries to be as pure as she can in order to exhibit beautiful and simple artworks that will last the test of time.

"My aim with the art of jewellery is to give positive messages from cultures and values and make jewels which enriched the inner self as well and remind to the people that the true beauty is the one that comes from inside."

Since 2010, she started practise Falun Dafa and it becomes an endless source of inspiration and the reason for her inner peace and tranquillity.

"The way I choose through Falun Dafa brings me back to the essence of my true self and gives me inner peace. I understood the way one creates and his mental statement are very important into the creativity. Back in the old times in Ancient China, people from all eras provide the right position and empty their mind before they start to work. Those values guide me in my daily life."

Having been always interested in lost cultures and the legacy of the ancient world, her practice of Falun Dafa made her appreciate even more ancient Chinese civilization and its 5,000 years of history. She has also found that there are many similarities with the ancient Greek civilization.

"These cultures take a different approach in the way they see things and make things, yet both are characterized by their search for virtue! I saw similar symbols in both cultures as well as in India that was my last trip to the orient. This means to me that in ancient times all the civilizations shared similar moral standards, but after the decline in morals started, things have become more complicated. "

The art of jewellery is not an easy one, as it needs a lot of inspiration, patience and skill, and intricate techniques. The way in which someone creates things and his mental state are a very important part of creativity. Back in ancient times, people used to pay attention to how to position their bodies in the right way as well as empty their minds before they started to work. When you create something and put your heart in it, what comes out of it is so beautiful and the one who has it can feel this energy.

"When you create something and put your heart on it, what it comes is so beautiful and the one who has it feels this energy "
You are welcome to print and circulate all articles published on Clearharmony and their content, but please quote the source.