Falun Dafa practitioners in the United Kingdom gathered on Saturday, May 10, 2014, at London's Trafalgar Square and celebrated the 15th World Falun Dafa Day with group exercises and activities to tell the public more about Falun Dafa.
The blue banners, colourful balloons, and practitioners' bright yellow outfits brought a splash of colour to this famous landmark in central London, and the six-hour-long event attracted many tourists and locals who stopped to learn more about Falun Dafa.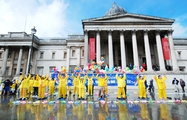 Celebrating Falun Dafa Day on Trafalgar Square

Trafalgar Square is a must-see destination for visitors to London. Many who came here on May 10 were happy to encounter an attraction not listed on any of the travel guides—Falun Dafa practitioners doing group exercises and raising awareness of the persecution in China, as way of celebrating the 22 nd anniversary of Falun Dafa's public introduction and the 63 rd birthday of Mr. Li Hongzhi, the founder of Falun Dafa.
Multicolored balloons framed the bright blue banner with the message "Celebrating World Falun Dafa Day," written bold in English and Chinese.
Surrounded by colourful handmade lotus flowers symbolizing purity, and accompanied by traditional Chinese melodies, practitioners in bright yellow outfits demonstrated the beauty of the practice. Many people felt the harmonious and positive energy and stopped to experience such a wonderful moment.
Signing the Petition
"What is Falun Dafa?" "What is this celebration about?" "How cruel to harvest organs from living prisoners of conscience." Many watched the group exercises with great interest and were eager to learn the movements. Some took the fliers and learned more about the ongoing persecution in China, carefully reading the information on the placards. A number of people asked questions, which practitioners answered.
Those who already knew about Falun Dafa expressed their support and told their family and friends about the practice. Many signed the petition calling for an end to the brutal organ harvesting. Nearly a thousand signatures were collected during the six-hour event.
Many signed the petition calling for an end to the Chinese Communist Party's forced organ harvesting of persecuted Falun Gong practitioners
Demonstrating the Exercises Despite the Rain
London is known for its fickle weather, but the three showers during the event on May 10 didn't interrupt the group exercises. Practitioners maintained the sitting position and continued to meditate in the rain. Many visitors who witnessed this were deeply touched. They patiently stood in the rain and listened to practitioners talk about Falun Dafa and the persecution, then signed the petition.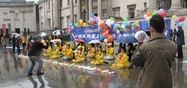 Showers did not interrupt the group exercises nor stop passersby from learning the facts about Falun Dafa
Ms. Alexon from London: "I Could Stay Here All Day!"
Ms. Alexon, a London resident, just happened to pass by the north side of Trafalgar Square Saturday afternoon. She was instantly attracted to the celebration and watched the group exercise demonstration for a long time. After learning about the persecution and the forced organ harvesting, she put her name on the petition.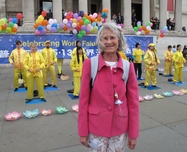 Ms. Alexon from London carefully pinned a paper lotus flower with the precious message "Falun Dafa is good" to her jacket
As Ms. Alexon carefully pinned the paper lotus flower with the precious message "Falun Dafa is good" to her jacket, she told us that she had always been interested in traditional Chinese culture and witnessing the celebration on Saturday made her really happy. She said, "It is truly calm and beautiful here. I could stay here all day."
Welcome to London Ambassador: "It Is Truly Important to Let More People Know about China's Human Rights Situation."
Dressed in an iconic bowler hat and classic three-piece suit, Mr. Rafal is one of London's "Welcome to London Ambassadors." He stopped and watched the activities with great interest and commended the practitioners for providing such important information to visitors of the city. He expressed willingness to spread the information.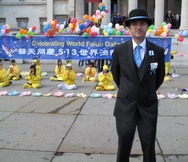 Welcome to London ambassador Mr. Rafal was pleased to see the World Falun Dafa Day celebration
"Living here, we rarely get to know what is truly going on in China, especially in regards to human rights. This event has done that.
"It is a great idea to hold such an event at Trafalgar Square, because there is always a big crowd here. Many tourists come here to look for new information and to meet new people. To offer such information here says, 'London welcomes you.'"
Mr. Rafal was very happy to have his photo taken and said that he would post it to the "Team London Ambassadors" official website so everybody who's interested in London can find information about Falun Dafa.
A Young Man from Spain: "Falun Dafa Is So Calm and Peaceful."
Alexander, a young Spaniard, was in London for a job interview. A few hours before he headed home, he decided to make a last stop at Trafalgar Square. He was surprised to see the various activities and was deeply touched by how calm and peaceful the practitioners were meditating in the rain. Standing in front of the group, he held up a note that said "For helping me to be here" and asked his girlfriend to take a picture of him.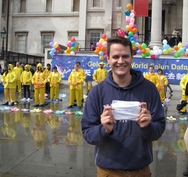 Alexander from Spain was really happy to see the Falun Dafa activities
Alexander told the practitioners that he had tried to meditate before but quickly gave up. Looking at the practitioners in the rain, he said, "They look so peaceful. It's remarkable how they remain so focused and committed even in the rain." He was really happy and grateful to have witnessed the celebration that brought him such peace and beauty.
Israeli Tourist: "The CCP's Crackdown on Falun Dafa Will Undoubtedly Fail."
Adam, a tourist from Israel, already knew about Falun Dafa. When he saw the celebration on Trafalgar Square, he expressed his support for the practitioners. He believes that the Chinese Communist Party's (CCP) persecution ofFalun Dafa will undoubtedly fail, because the Communist Party is the most evil system in the world. He said, "Communism will fail regardless, wherever it is in the world, and China is no exception."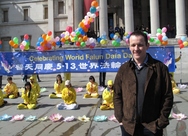 Adam, a tourist from Israel, watched the celebration at Trafalgar Square. He thinks the Chinese Communist Party's (CCP) persecution of Falun Dafa will fail
Adam noted the stark contrast between the crime of harvesting organs from living Falun Dafa practitioners and the peacefulness of the cultivators. He had praise for the bright colours in such a public space and the opportunity for visitors to lean what the Communist Party is really like.
Local Falun Dafa Practitioners: "I Am So Happy to Participate in this Celebration."
Every practitioner who participated in the celebration on May 10 was filled with joy and appreciation. Joy, a practitioner from the UK who has been practicing for four years, is one of them. With a big smile on her face, she passed out many fliers and lotus flowers and talked to people about the practice. When asked how she felt about being part of the celebration, Joy said, "I don't know how to express it. I am just so happy to be here.
"I am truly happy that so many people are here to experience the beauty of Dafa."

Falun Dafa practitioner Joy at the celebration on May 10
Anton, also a practitioner, was full of gratitude for Dafa just like thousands of other practitioners. Dafa completely changed his life.
He shared, "Since I began to practise Falun Dafa three years ago, I have become calmer and kinder. I am much healthier than before."
Anton was very touched to see the positive feedback and support people have shown towards Dafa. He really appreciated the opportunity to cultivate in Dafa and was appreciative of the founder of Falun Dafa.
Anton said, "Seeing that people, regardless where they are from, are able to experience the beauty of Dafa, I became more clear that Truthfulness-Compassion-Forbearance are universal values that will benefit all of humankind.
"I ran into many people today who had already heard about Falun Dafa and knew about the persecution in China. Many told me that they had already signed the petition calling for an end to forced organ harvesting. This goes to show that practitioners' efforts to let people know about Falun Dafa, raise awareness about the persecution, and resist the persecution in the past years have not been in vain. I am extremely happy about this."
Falun Dafa practitioners in the UK wish Mr. Li Hongzhi a very Happy Birthday
To show their appreciation to the founder of Falun Dafa, practitioners pressed their palms together and said in unison, "Happy birthday, Master!" "Falun Dafa is good!" Their heartfelt wishes were heard by everyone on Trafalgar Square.
You are welcome to print and circulate all articles published on Clearharmony and their content, but please quote the source.