The annual European Falun Dafa Cultivation Experience Sharing Conference was held in Madrid, Spain on October 5, 2014. Falun Dafa practitioners from over 30 countries gathered in Madrid to share their experiences in cultivation and protesting Chinese Communist Party's (CCP) persecution.
Various events will be held during the conference to raise awareness on Falun Dafa and the CCP's 15-year-long inhumane persecution.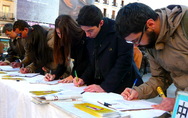 Local people sign petition against the live organ harvesting at Puerta del Sol in Madrid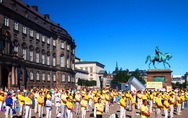 Group exercise practice
Madrid has splendid history. The Palacio Real de Madrid is one of the best preserved palaces in Europe. Museo Nacional del Prado, having many master pieces of great artists of Italy and Spain during Renaissance, is one of the four biggest museums in the world.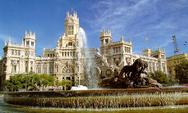 Palacio Real de Madrid
Falun Gong was first introduced to Spain in 1997 and first appeared at the World and Americas Expo held in Madrid. The books Falun Gong and Zhuan Falun were published in Spanish in 2001 and 2002. More and more people started practising Falun Gong in the ensuing years.
In China, the Party began persecuting Falun Gong in 1999, manipulating state resources including diplomatic efforts to persecute innocent practitioners. Despite threats and other pressures, the judicial system and media in Spain condemned the persecution of Falun Gong in China.
A Spanish National Court judge ordered the indictment of five Chinese communist officials, including former party head Jiang Zemin, for genocide and torture of Falun Gong practitioners, on November 19, 2009. Chinese Communist officials Luo Gan, Bo Xilai, Jia Qinglin and Wu Guanzheng also face these charges.
Under the cooperation of Spain Organ Transplantation Association, the Spanish Parliament added a new item to the criminal code in 2010 to ban Spanish citizens (regardless of their country of residence) from promoting or receiving illegal organ transplants. Violators face three to twelve years in prison.
Shen Yun Performing Arts, which is produced and performed largely by Falun Gong practitioners, had shows in Barcelona in 2013. The Chinese Consulate in Barcelona exerted pressure on the local theater and government to cancel the show. The theater refused the unreasonable request and mainstream media reported the issue before and after the show. The hosting organization filed a lawsuit against the Chinese officials responsible for slander and interference.
The Shen Yun show caused a stir in Barcelona, so people wanted to see it and Shen Yun played to full houses at each of its four performances. Local media covered the show and commended it.
You are welcome to print and circulate all articles published on Clearharmony and their content, but please quote the source.