Falun Gong practitioners from more than 30 countries in Europe held a rally and candlelight vigil on Stephansplatz in Vienna, Austria, on September 18, 2015.
They raised awareness of the persecution of Falun Gong and supported the lawsuits being filed against Jiang Zemin, former head of the Chinese Communist Party (CCP) who initiated the persecution of Falun Gong in 1999.
More than 180,000 people have filed criminal complaints against Jiang since the end of May 2015. They are urging the Supreme People's Procuratorate and the Supreme People's Court to bring Jiang to justice for his abuses of power in orchestrating the persecution of Falun Gong in China.
The practitioners gathered in Vienna to attend the 2015 Falun Dafa Cultivation Experience Sharing Conference to be held on September 20. Different events were held to inform the public about Falun Gong and raise awareness of the persecution.
They did the exercises together and held a candlelight vigil on Stephansplatz, a well-known tourist destination and Vienna landmark, at 6:30 p.m. on September 18. They provided information and set up displays documenting the CCP's persecution of Falun Gong, including live organ harvesting.
Hindelang commented that the lawsuits being filed against Jiang were meaningful and necessary
Hindelang from Germany had never been to Vienna before, but she had heard about the persecution of Falun Gong. She said she had been to China, "China is developing fast economically and is friendly to foreign visitors. But the Party hides its human rights violations. Chinese people need their freedom of speech. The Party has no regard for human life, as its practice of live organ harvesting attests to.
"Falun Gong practitioners filing lawsuits against Jiang is meaningful and necessary. I will browse online to read more about the lawsuits. Good luck."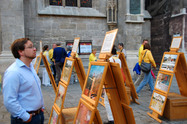 Stephen from New York read the posters about Falun Gong and said he would learn more about the persecution
Stephen, an engineer from New York, passed by and read the posters about Falun Gong. He said, "I've heard that the Party has issues and that it is responsible for many wrong things. Harvesting organs from the living is horrible. I will pay attention to Falun Gong after I return to America." He took a flyer.
Falun Gong practitioners' banners supporting the lawsuits against Jiang were displayed in both Chinese and German languages. Some practitioners used a microphone to tell passersby about the CCP persecution and the lawsuits being filed against Jiang. Informational flyers were available in more than 20 languages.
The peaceful exercise demonstration caught the attention of many passersby, who paused to watch and take photos. Some went to the information table and signed the petition against the CCP's live organ harvesting. Other people picked up flyers in their own languages.
Chinese Resident in Vienna: "Bringing a Lawsuit Is a Great Idea!"
Ms. Zhou from China lives in Vienna. She accepted a flyer from a practitioner and said she was surprised to see so many Western people practicing Falun Gong. She asked a practitioner why that was.
When she learned about the lawsuits being filed against Jiang, she said, "Bringing a lawsuit against Jiang is great! He should be sued." She said that news in China is generally fabricated, "I browsed online and learned the facts about the persecution of Falun Gong in China. The widespread acceptance of Falun Gong in the 1990s frightened the paranoid CCP.
"Spiritual belief is powerful. The CCP is afraid of people with a spiritual beliefs. That's why it persecutes Falun Gong." She stayed quite a while to watch the group doing the exercises.
Voices of Support in Europe for the Lawsuits Against Jiang
Three members of the European Parliament, including Dr. Cornelia Ernst, Prof. Dr. Klaus Buchner, and Ms. Merja Kyllönen, recently wrote the director, Cao Jianming, of the Supreme People's Procuratorate of China, urging him to sue Jiang publicly and bring him into justice.
Ten Swiss politicians have recently written to Chinese President Xi Jinping, urging him to bring Jiang Zemin to stand trial for his role in the 16-year persecution of Falun Gong. The elected officials include four Swiss Federal Members of Parliament (MP), five members of the Grand Council of the Canton of Geneva, and one former Permanent Representative of the Swiss Confederation.
Their letter read, in part, "He created the extra-judicial 610 Office that is responsible for a terrible and cruel persecution. This entity employs horrific forms of torture methods. The worse is the harvesting of organs from living Falun Gong practitioners, who are killed for economic profit."
Renowned French human rights lawyer William Bourdon gave an interview on the subject of the lawsuits against Jiang. He called it a very special new development. He said that he and his team were ready to engage in global collaboration, and are working together with lawyers in Ottawa, Montreal, London, and elsewhere to bring Jiang to justice.
Background
In 1999, Jiang Zemin, as head of the Chinese Communist Party, overrode other Politburo standing committee members and launched the violent suppression of Falun Gong.
Over the past 16 years, more than 3,800 Falun Gong practitioners have been confirmed tortured to death. The actual toll is likely higher, because such information is tightly censored in China. More have been tortured for their belief and even killed for their organs. Jiang Zemin is directly responsible for the inception and continuation of the brutal persecution.
Under his personal direction, the Chinese Communist Party established an extralegal security organ, the 610 Office, on June 10, 1999. The organization overrides police forces and the judicial system in carrying out Jiang's directive regarding Falun Gong: to ruin their reputations, cut off their financial resources, and destroy them physically.
Chinese law allows for citizens to be plaintiffs in criminal cases, and many practitioners are now exercising that right to file criminal complaints against the former dictator.
You are welcome to print and circulate all articles published on Clearharmony and their content, but please quote the source.