Nearly 10,000 practitioners of Falun Gong (also known as Falun Dafa) from over 53 countries held a parade in Manhattan, New York on May 13, 2016, to celebrate the anniversary of Falun Dafa's public introduction. They demonstrated the Falun Dafa exercises and called to stop the persecution in China and bring the perpetrators to justice.
The parade comprised three large groups: introducing Falun Dafa, stopping the persecution in China, and supporting the 230 million who have quit the Chinese Communist Party (CCP) and its youth organizations.
The Divine Land Marching Band led the three-and-a-half-hour parade, which started from Dag Hammarskjold Plaza Park, across from the UN Headquarters near intersection of 47th Street and 2nd Avenue, passed by 42nd street and Times Square, and ended beside the Chinese Consulate on 12th Avenue.
The event drew the attention of spectators from all walks of life, many of whom paused to learn about Falun Gong. Many people greeted the practitioners and said, "Falun Gong. You are the biggest event today in New York."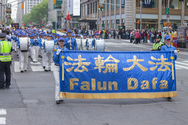 The Divine Land Marching Band performs in the parade in Manhattan, New York on May 13, 2016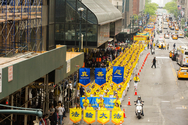 Practitioners demonstrate the Falun Gong exercises during the parade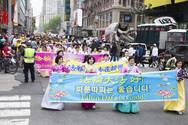 Practitioners from many countries marched in the parade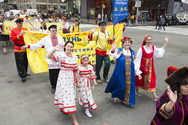 And some wore the traditional dress of their countries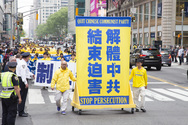 Calling to stop the Chinese regime's harvesting of organs from living practitioners imprisoned for their faith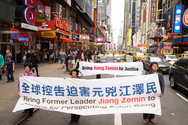 Calling to bring former Chinese dictator Jiang Zemin to justice
Manhattan Employee: "I Like the Energy"
Jim is a senior manager working in a building next to Times Square. He stood outside and watched the parade for quite a while. He said, "The parade is splendid. I like the energy from the processions."
Chip Adams is an employee of an insurance company. It was his first time seeing Falun Gong. He said he saw the procession from his office and came down to see the parade in person. He said, "I like the colors in the processions. I was drawn by the colours and came down to watch the parade. I am pleased to know this is a practice beneficial to health."
After learning of the state-sanctioned organ harvesting from living practitioners, he said, "This is terrible. Such a thing cannot be continued. You are great for letting people know the issues. I admire you. Thank you for all you have done."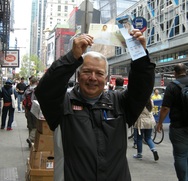 Enrique raises a flyer with the words "Falun Dafa is good!" after watching the parade
Enrique stood in front of an office building in Manhattan and watched the parade. He asked a practitioner for information materials in Spanish. When told he can find the information in Spanish at a website printed on the flyer, he said excitedly, "Great, I'll send this information to my friends and relatives, since they all speak Spanish. Nowadays the society and work make people stressed. I think this practice is what we need. So many people from many countries practice it. Such a peaceful demonstration is wonderful."
He continued, "I also get to know that Falun Gong is persecuted in China. I don't understand why such peaceful people suffer that! Their principles are Truthfulness-Compassion-Forbearance. Everyone need the principles and the world needs them. The persecution must stop immediately!"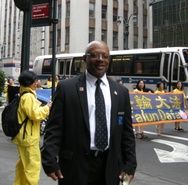 Douglas works in a building nearby. He said, "The parade brings peace to New York"
Douglas works in an office building in Manhattan. He said, "I have seen this parade for four years in a row. I like it very much. It is very peaceful and graceful demonstration. The procession is splendid and well organized. Everything is so perfect. I could not find anything inappropriate. I don't understand why Falun Gong is persecuted in China. Such a group of peaceful people should not be persecuted. The persecution should not happen."
Glenn Ransier, an employee of a credit card bank, said, "People should have the freedom to meditate. Being persecuted for meditation is unbelievable and cannot be accepted."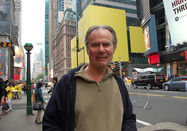 Performance artist Dan Diggles expressed interest in learning Falun Gong after watching the parade
European Tourists: Truthfulness-Compassion-Forbearance "Important for Everyone"
Christina, a tourist from France, said she liked the Divine Land Marching Band, "The music is full of energy. The parade is wonderful." She pointed at the large banner with the words, "Truthfulness-Compassion-Forbearance" and said, "The values of the principles are important for the world and for everyone."

French tourist Christina thanks a practitioner who gave her a flyer and introduced Falun Gong to her
Sandro and Vanna, tourists from Italy, said they liked the parade and felt the peaceful energy. They were happy to learn that there were Falun Gong practitioners in Italy.
Thekla Mowatraabe and Sonja Raupach from Germany watched the parade and talked with a German practitioner for quite a while. Thekla said, "We were interested when seeing the parade. We wish to know what Falun Gong is. I am pleased to meet this German practitioner by coincidence. He explained to us in German about Falun Gong and the persecution in China. We become aware of the persecution. I don't think there is anything more important than this today."
Sonja said, "We were shocked when hearing about live organ harvesting. It is terrible to kill people for organs. It must be stopped. We will let more people know this after returning to Germany. This is important. The first thing to do after going back is to post this issue on my social media."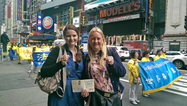 Thekla Mowatraabe and Sonja Raupach from Germany learned about the organ harvesting crimes carried out by the Chinese regime
You are welcome to print and circulate all articles published on Clearharmony and their content, but please quote the source.