Practitioners held a public event to introduce the practice of Falun Dafa in Izmir, Turkey's third largest city, on October 8, 2016. A presentation on Falun Dafa was followed by a demonstration of the exercises.
The event attracted a great deal of interest, and the room was filled to capacity. Feedback from the participants was very positive. Some of the participants said that they felt the strong energy of the exercise movements right away.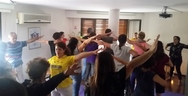 Practitioners doing the exercises with the participants
The event was held in the Pozitif Manevra Psychological Consultancy and Coaching Centre, and was covered by one of the largest and most popular newspapers in İzmir- Hurriyet Ege. Some of the participants said they came because of the notice in the newspaper.
One of those in attendance, Nilgun Kocabas, said that the day before the event, she had been thinking that she needed a meditation system to follow, and the next day she found out about Falun Dafa.
After trying the exercises, she said that she felt very good and she thanked the volunteer instructors. She said that she planned to start reading the teachings and continue doing the exercises.
After the event, the presenters and the participants made arrangements to get together bi-weekly to do the exercises in one of the famous squares in town—İzmir-Gundogdu Square.
You are welcome to print and circulate all articles published on Clearharmony and their content, but please quote the source.