The annual life quality and healthcare expo was held in Gothenburg, Sweden on February 17 and 18, 2017. Local Falun Gong practitioners were invited to participate.
Ravinder Raj, the event organizer, said, "I know Falun Gong practitioners are good people. So I invited them to this event to meet the needs of attendees."
He recalled, "I went to India many years ago and met with Falun Gong practitioners, who were there to tell people about Falun Gong. I still remember their names. I know they are good people even though the Chinese Communist Party persecutes Falun Gong." He said he had read Zhuan Falun, the main book of Falun Gong.
Many people paused at the Falun Gong booth and asked questions
Many people paused in front of the Falun Gong booth, including youth, students, government employees, and retirees. Many of them accepted flyers with Falun Gong information. Some took several copies of the flyers for their friends.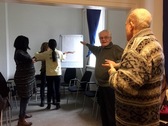 Visitors learn the Falun Gong exercises from a practitioner
One older woman came to the booth and said, "I learned Falun Gong over ten years ago. Unfortunately I did not continue, but now I want to resume practicing it."
A visitor from Uppsala said, when seeing practitioners doing the sitting meditation, "I'm happy to see that you are here. I think this expo is better than previous ones. This expo is different and bright. I feel divine beings are closer to us."
You are welcome to print and circulate all articles published on Clearharmony and their content, but please quote the source.