Falun Dafa (also called Falun Gong) practitioners in Sweden established an information site at Mynttorget Square many years ago. The site is next to the Swedish Parliament (Riksdag) in central Stockholm. At this busy public spot, they introduce Dafa cultivation practice and raise awareness of the ongoing persecution of Falun Dafa in China.
It was a bright sunny day on Saturday, March 14, 2020. Practitioners set up a banner with the words "Stop the Persecution of Falun Gong," as well as display boards with information about the practice and the persecution.
Before the information boards were set up, a Swedish security guard who'd learned some Chinese from practitioners at the last activity stopped over to say hello. He kept saying "Falun Dafa is wonderful" in Chinese and asked practitioners if he had said it correctly. He was delighted when practitioners complimented him on his accurate pronunciation.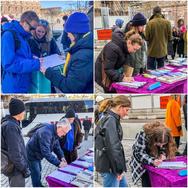 Passersby sign the petition calling for a stop to the persecution


Tourists carefully read the information brochure about Falun Dafa. Many asked for further information about the practice
Swedish Member of Parliament Joins Practitioners in the Exercises
Practitioners demonstrated the five Falun Gong exercises. Many people were drawn to the serene scene and the calming exercise music and quite a few did the exercises alongside the practitioners. One of them was a woman who works in the Parliament. She stood next to practitioners and did the second exercise – Embracing the Wheel. Her eyes were closed, her movements were precise, and she was very focused on doing the exercises. This woman is Ann-Sofie Alm, a Member of the Swedish Parliament.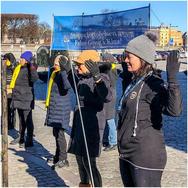 Ann-Sofie Alm, a Member of the Swedish Parliament (first right) does the second exercise with practitioners. After the exercises, she smiled and talked with practitioners
"I came to work today," she said, "and saw you doing the exercises. I'm so glad to see you. I decided to come and show my support."
She continued, "This persecution is still going on and it is terrible. I have brought this up in Parliament on many occasions. However, what I can do is very limited. I am very supportive of what you do."
Before leaving, she assured the practitioners that she will continue to appeal to Members of the European Union to do something to help stop the atrocities in China.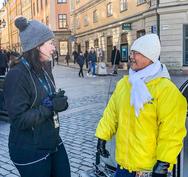 Ann-Sofie Alm, a Member of the Swedish Parliament, speaks with a practitioner
Passersby Sign Petition to Stop the Persecution
Two men read all the information on the display boards. One of them told the practitioners that they had studied in China. They'd been introduced to Falun Dafa by a teacher who is a practitioner. This teacher suddenly disappeared and they never saw him again.
The men are very worried about their teacher and wondered if he was arrested and imprisoned. They hope that he was not a victim of the Chinese regime's forced organ harvesting. They expressed gratitude to the practitioners for holding activities to raise awareness, so that more people will understand what is happening in China.
A young couple from the UK were excited to talk to practitioners at Mynttorget Square. They'd already met practitioners in England, and they signed the petition to show their support.
Another two middle-aged men signed the petition calling for an end to the brutalities in China.
"We know that Falun Dafa is an ancient, traditional form of cultivation practice," one said. "The communist regime is destroying traditional culture. We thank you for holding activities like this often. You are doing a great job of telling people the truth. We support you!"

You are welcome to print and circulate all articles published on Clearharmony and their content, but please quote the source.