On Friday July 17, Falun Gong practitioners in Switzerland held a rally beside Lake Geneva, calling on the United Nations (UN) to stop the Chinese Communist Party's (CCP) 21-year-long persecution of Falun Gong.
Falun Gong practitioners rally at Lake Geneva, urging the United Nations to stop the CCP's persecution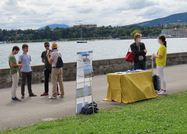 Passersby learn about Falun Gong
"We gather here to mark the 21st anniversary of Falun Gong practitioners' peaceful and courageous protesting of the CCP's persecution," a practitioner announced at the rally.
"We are here today to call on the Swiss government and the UN High Commissioner for Human Rights to call out the CCP regime to stop the brutal persecution, because the CCP regime is violating the international human rights convention that it signed."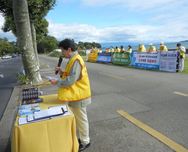 A Falun Gong practitioner representative speaks at the rally
The practitioner pointed out that the CCP conducts live organ harvesting, which was affirmed by the China Tribunal.
Chaired by Sir Geoffrey Nice, QC, who led the prosecution of Slobodan Milošević at the International Criminal Tribunal for the former Yugoslavia (the ICTY), the China Tribunal is an independent panel of seven with expertise in international law, human rights, medicine, international relations, Chinese history, and business.
"The number of people being persecuted in China is shocking as stated in the book Minghui Report: The 20-Year Persecution of Falun Gong in China," the practitioner said.
"Two-and-a-half to three million people were arrested in China from July 20, 1999, to July 10, 2019. Elected officials all over the world call for an immediate end of the persecution. Nearly 100 current and former members of parliament in Switzerland signed a joint statement calling on the CCP to stop the persecution."
He thanked officials and non-governmental organizations for their support of Falun Gong.
The Swiss Christian Organization against Torture sent a letter of support to the Swiss Falun Dafa Association on July 16. It said, in part, "The Swiss Christian Organization against Torture reaffirms its solidarity with the thousands of victims of the Falun Gong movement, condemns the CCP's persecution of Falun Gong practitioners and other minority groups, and requests the CCP to end this persecution."
The Swiss Christian Organization against Torture calls on all governments, especially the Swiss government, to take firm and quick action to end this tragedy.

You are welcome to print and circulate all articles published on Clearharmony and their content, but please quote the source.