Celebrations for Ukraine Independence Day were held in Dnipro and Kharkiv on August 24, 2020. Both cities have populations of over a million, and Independence Day is one of the most significant Ukrainian holidays during the year.
Falun Dafa practitioners participated in the festivities and introduced the meditation practice and its persecution by the communist regime in China. They gave out paper lotus flowers and shared the message that improving oneself makes the world better as well. They also put on a waist drum performance in Kharkiv and demonstrated the Falun Dafa exercises. Many people took pictures and videos, and some were moved to tears after talking with practitioners.
Dnipro

Practitioners introduce Falun Dafa at the Ukraine Independence Day festival in Dnipro.
Gennaki, 63, said he'd seen practitioners' activities before. A practitioner had given him a newspaper, from which he learned the Falun Dafa exercise movements. After trying several movements, he felt a strong energy pouring into him, and his heart became peaceful. Today, he came to inquire more about Falun Dafa and ask for more newspapers to give to his elder sister and his daughter. The three of them wanted to go to a group practice site to learn the exercises.
A young man asked a practitioner what Falun Dafa was about. The practitioner explained that one follows the universal principles of Truthfulness-Compassion-Forbearance to become a better person.
Another young man read the display boards about the Chinese Communist Party's killing of practitioners for organs. He asked what he could do to help stop the persecution. A practitioner told him that he could sign the petition calling for an end to the persecution. The young man signed the petition.
A couple watched practitioners doing the exercises for a long time and then asked for further information. They said they were very interested in the practice and that it was what they needed. They asked where they could find a group practice site and whether a fee was required. A practitioner told them that learning and practising Falun Dafa is free.
Kharkiv

Practitioners participate in Ukraine Independence Day festivals and raise awareness of the persecution of their faith perpetrated by the Chinese government.

People in Kharkiv read about Falun Dafa.
Practitioners in Kharkiv also participated in the Independence Day festival and demonstrated the Falun Dafa exercises. They handed out origami lotus flowers and formed a waist drum team as part of the celebration.
Yuri Shevchenko is a district head in Donetsk Oblast. He was visiting Kharkiv during Independence Day. After learning of the persecution happening in China, he signed the petition. He said he was especially impressed by Falun Dafa's emphasis on cultivating one's heart and virtue.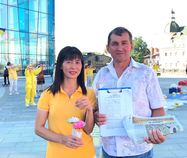 Yuri Shevchenko, a district head in Donetsk Oblast, signed the petition calling for an end to the persecution in China.
A practitioner gave him a box of origami lotus flowers and several dozen newspapers that explained the facts of Falun Dafa. Shevchenko said that he would send the flowers to children in his district on the first day of school and tell them that the lotus flower symbolizes spiritual ascension, self-improvement, and striving to be a good person.
Vika, a young woman who worked in China for four years, told a practitioner that she knew about the persecution of Falun Dafa, including forced organ harvesting. Through talking with many Chinese before, she found out how tightly the CCP controls people's minds. Some Chinese told her that they wanted to go overseas and flee communist rule.
When practitioners were demonstrating the exercises, a woman stood next to them for half an hour. She said she didn't want to leave because she felt a good and compassionate energy field. She signed the petition calling for an end to the persecution.
A family of three came over to the practitioners. At first, the elderly woman looked really sad as her daughter had died not long ago. One of the practitioners had experienced a similar tragedy and told her how Falun Dafa helped her overcome the grief. She comforted the woman and told her that one way to be more calm and peaceful is to try to do better and cultivate oneself. The improvement in oneself leads to positive changes in one's environment, she said.
The family listened quietly. The elderly woman's sad expression gradually changed and eventually became almost unnoticeable. Upon leaving, she gave the practitioner a big hug and thanked her for the words that gave her hope.

You are welcome to print and circulate all articles published on Clearharmony and their content, but please quote the source.