"I'm so happy to see more people striving to improve themselves," said Jenny, a Yoga teacher.
Jenny encountered Carina, a Falun Dafa practitioner meditating with another practitioner in London's Queen's Park on the afternoon of October 18, 2020. As they chatted they told her about Falun Dafa. Jenny was interested in learning more and encouraged practitioners' efforts to expose the Chinese Communist Party's (CCP) persecution.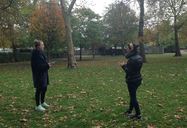 Jenny (left) was happy to meet Falun Dafa practitioners in Queen's Park.
Jenny said she's meditated for years and can feel positive and negative energy around her. She explained that she sought to connect with positive energy and felt she was predestined to meet practitioners that day. "I felt tired this morning. I wanted to restore my energy by coming to the park." Jenny came to historic Queen's Park where she met Carina and another practitioner meditating.
Carina told Jenny that Falun Dafa is an ancient cultivation practice of mind and body that is practised in over 100 countries worldwide. Practitioners align themselves with the principles of Truthfulness, Compassion, and Forbearance and strive to improve their character. Jenny agreed with Falun Dafa's principles and said she also sought to improve her character and be a good person.
Carina explained that, by practising Falun Dafa and cultivating herself, she found inner peace. By following Truthfulness-Compassion-Forbearance, she eliminated her anxiety and fear, and it helped her to be considerate. Jenny said, "No one can take away your inner peace once you get it. You can spread it to the people around you and help the world become better and more balanced."
Jenny was happy to learn about practitioners' persistent efforts over the past 21 years to call for an end to the CCP's persecution, including their activities on Trafalgar Square every Saturday. She thought that the CCP's persecution showed it feared Truthfulness-Compassion-Forbearance. She took brochures so she could find out more about Falun Dafa.

You are welcome to print and circulate all articles published on Clearharmony and their content, but please quote the source.