Following last weekend's vandalism of Falun Dafa information booths on Soy Street and Argyle Street by Chinese Communist Party (CCP) agents, additional booths located in Wong Tai Sin District, Causeway Bay, Tsim Sha Tsui, and Mong Kok were vandalized. Local residents condemned the CCP for its thuggish acts and said this only further exposes the CCP's true nature.
Mr. Kwok Cheuk-kin, who is well known for his judicial activism, said that this attempt to sabotage practitioners only exposes the CCP's fear of truth. The Falun Dafa Association of Hong Kong condemned the CCP's repeated crimes and called on Hong Kong authorities and citizens to safeguard freedom of speech.
The Falun Dafa information booth in Mong Kok street was vandalized by CCP agents.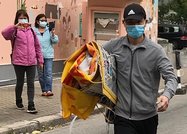 This man wearing a mask and a cap vandalized several information booths in Wong Tai Sin and other places. His two companions photographed him on December 19.
After someone knocked down the Falun Dafa display boards in front of SOGO at Causeway Bay around noon on December 19, 2020, they ran away. Similar vandalism happened a month ago. On the afternoon of December 19, a man whose face was covered with a mask and wearing a cap aggressively destroyed the Falun Dafa displays and took the banners at the booth in the Wong Tai Sin District. Mr. Zhuang, the Falun Dafa practitioner at the booth, recorded a video of the destruction. At the same time, several women with mainland Chinese accents who are members of the "Hong Kong Youth Care Association" (HKYCA), a Hong Kong-based CCP agency that persecutes Falun Dafa, verbally abused Mr. Zhuang.
A thug knocked down the display boards in Tsim Sha Tsui on December 20 and threw some boards into the sea. He approached Falun Dafa practitioner Ms. Chen, who was holding her pushcart which had a TV in it. The assailant pulled out one of the banner poles from the cart and broke it. Then he pulled out the other pole and threw it into the sea.
Around 1:10 p.m. that afternoon, several thugs spray-painted graffiti, defacing the Falun Dafa display boards on Soy Street. The practitioner on site said that several groups of CCP thugs have harassed practitioners multiple times recently.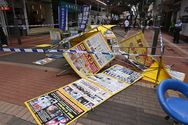 The Falun Dafa information booth on Soy Street was vandalized on December 13, 2020
Ms. Shi, a Falun Dafa practitioner who witnessed the vandalism on Soy Street, said, "A man who looked like he was in his 30s came over. Without saying a word, he kicked the display boards and smashed the booth." When Ms. Shi took out her cell phone to take photos, the man ran away. Shi reported it to the police, who blocked the site with caution tape. The booth on Argyle Street was also destroyed.
The Falun Dafa information booth in Mong Kok was vandalized in August 2020. On August 24, two concerned local residents caught a perpetrator and turned him into the police. He was charged with criminal offences.
Liang Zhen, president of the Falun Dafa Association of Hong Kong, condemned the CCP thugs and called on Hong Kong police and citizens to safeguard freedom of speech.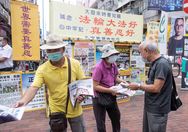 Despite the CCP's implementation of the National Security Law in Hong Kong, Falun Dafa practitioners continue to clarify the truth.
Writer and commentator Mr. Bruce Lam Hong Ching said that he's seen Falun Dafa information booths since he was young. "The more the CCP sabotages their efforts, the more the public's attention is drawn to Falun Dafa," he said.
Mr. Kwok Cheuk-kin, whose nickname is "king of judicial review", said that the Falun Dafa booths have a legal right to be on the streets according to Article 26 of the Basic Law, but the CCP doesn't want people to find out about the persecution. Mr. Kwok called on people to report these crimes to the police and help stop them, and safeguard freedom of speech in Hong Kong.
Kwok praised practitioners, "Falun Dafa practitioners have shown admirable spirit in upholding freedom of belief, even though they have been suppressed for many years!"
Some people left messages online, calling for supporters of the Anti-Extradition Law Movement to check on the Falun Dafa booths in Mong Kok when they have a chance to and do their best to help (stop the sabotage).

You are welcome to print and circulate all articles published on Clearharmony and their content, but please quote the source.