During a forum on February 24, Sir Geoffrey Nice QC from the China Tribunal reviewed the tribunal's history and operation, as well as its verdict on the Chinese Communist Party's (CCP) forced organ harvesting in China. He said the crime of organ harvesting is threatening mankind and we have the responsibility of correcting it.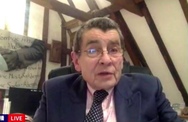 Sir Geoffrey Nice QC, Chair of the China Tribunal, talks about forced organ harvesting in China at a forum on February 24, 2021.
The forum was part of a Conference on the CCP's Forced Organ Harvesting, organized by the International Coalition to End Transplant Abuse in China (ETAC).
The International Covenant on Civil and Political Rights, adopted by the United Nations General Assembly in 1966, stated, "Every human being has the inherent right to life. This right shall be protected by law. No one shall be arbitrarily deprived of his life," explained ETAC on its website about the motivation for the conference.
However, the CCP has been systematically executing people "on demand" for the last two decades to provide organs for transplantation. "For the victims, which include political prisoners, Falun Gong practitioners and Uyghurs, it is not just the harvesting of their organs, it is also a harvesting of their life. For the rest of us, it robs us of our humanity and forever poisons our capacity of being human," continued ETAC.
Broad Acceptance
Sir Geoffrey has been a barrister since 1971. Between 1998 and 2006, he led the prosecution of former President of Serbia Slobodan Milošević, at the UN's International Criminal Tribunal for the Former Yugoslavia (ICTY). Since 2007, he has advised and represented states and victims concerning several domestic and international armed conflicts.
In December 2018, the China Tribunal issued an interim judgment, "The Tribunal's members are certain – unanimously, and sure beyond reasonable doubt – that in China forced organ harvesting from prisoners of conscience has been practiced for a substantial period of time involving a very substantial number of victims."
On June 18, 2019, the Tribunal announced its final conclusion. "Forced organ harvesting has been committed for years throughout China on a significant scale and that Falun Gong practitioners have been one – and probably the main – source of organ supply. The concerned persecution and medical testing of the Uyghurs is more recent as it may be that evidence of forced organ harvesting of this group may emerge in due course," continued the statement. "The Tribunal has had no evidence that the significant infrastructure associated with China's transplantation industry has been dismantled and absent a satisfactory explanation as to the source of readily available organs concludes that forced organ harvesting continues till today."
These judgments were based on two sessions of hearings, one between December 8 and 10, 2018, and another April 6 and 7, 2019. Over 50 witnesses, experts, investigators, and analysts testified during the hearings.
Sir Geoffrey said that the conclusions were then drawn based on these presentations. The judgments have been widely accepted in numerous countries. Several nations also used them to implement laws to curb organ harvesting. These countries include the U.S., Canada, U.K., and others.
Such independent people's tribunals started after World War II. They are relatively scarce in Europe, but often seen in South America, explained Sir Geoffrey. He said that such a tribunal cannot resolve all issues, but it can be useful when some governments or international organizations fail to address certain topics, and a people's tribunal can thus fill in the gap.
Looking back on his career, Sir Geoffrey said he did not know much about people's tribunals in the beginning. Nonetheless, the human rights violation in Iran during the 1980s caught his attention. Because of that, he took part in the Iran Tribunal after its formation in 2007. Similarly, when working with ICTY, he was the lead prosecutor at the trial of Slobodan Milošević in The Hague.
About five years ago, human rights advocate Ben Rogers talked with Sir Geoffrey, hoping he would provide a statement on the organ harvesting issue in China. Because some countries said the evidence might not be sufficient and were unwilling to participate, Sir Nice thought of establishing a people's tribunal. Working with Wendy Rogers from Macquarie University and David Matas, renowned human rights lawyer, the China Tribunal was established.
A Tribunal Belongs to the People and Only Deals with Facts
Based on his previous experience with other tribunals, Sir Geoffrey built the China Tribunal in a similar manner. He said when governments and international organizations neglect suppression of people, and refuse to take action, people's tribunals are needed.
Different from a regular court or a parliamentary committee, a people's tribunal should belong to the people. That is, it should consist of ordinary people from a broad background, rather than lawyers or experts from NGOs.
In other words, Sir Geoffrey expected the Tribunal to function like a jury trial. For example, jurors from criminal or civil courts reach a conclusion based on the evidence. In the organ harvesting case, the Tribunal members were also told not make assumptions. Like starting from a piece of blank paper, they would fill in facts and formulate opinions.
As a result, although independent investigations from David Matas, David Kilgour, Ethan Gutmann and others have provided strong proof of organ harvesting in China, the Tribunal only took the evidence and drew its own conclusion.
A Clear Conclusion
Sir Geoffrey said the conclusion was certain that forced organ harvesting – a crime against humanity – and genocide do exist in China as reported in the judgment.
He said before this work, none of the Tribunal members were aware of forced organ harvesting. They are ordinary citizens who make their own, rational judgment based on facts. Although there were legal professionals involved, the Tribunal functioned like a jury to reach its own conclusion. In addition, they are not responsible for providing recommendation or telling people to take certain actions, which is beyond the scope of the Tribunal.
Nonetheless, the conclusion from the Tribunal would be a valuable reference to anyone who deals with China. This includes educational organizations, companies, travel agencies, and other entities.
Sir Geoffrey emphasized that the Tribunal members have no political agenda and they only made judgment based on facts. That is why it could be hard for anyone to challenge their conclusion. In fact, since the Tribunal's judgments were announced in 2018 and 2019, no one has refuted it on a factual basis.
A Threat to Mankind
Because the conclusions regarding the forced organ harvesting in China came from ordinary citizens, such conclusions can be used to assist decision-making whenever there is a need to determine whether the CCP has committed crimes against humanity. The forced organ harvesting does not concern just a few cases, but is a large-scale state-sanctioned crime committed by the CCP against innocent people. Left unattended, this crime could spread given today's globalization and endanger all of mankind.
When the Universal Declaration of Human Rights was adopted by the United Nations in 1948, it proved a universal framework for basic rights and fundamental freedoms. Sir Geoffrey said because it is called "universal rights," it also means "universal responsibilities." This is, it is an obligation for all governments and all people.
Therefore, when the rights of a group of people are violated, it is related to all of us. We all have the responsibility to correct that.
This makes the forced organ harvesting in China highly relevant to all. In fact, the crime still continues in China and it is more extensive than what was covered in the judgment last year.

You are welcome to print and circulate all articles published on Clearharmony and their content, but please quote the source.