Falun Dafa has been taught publicly for 29 years, and an increasing number of people across the world are learning it. On the occasion of the founder, Master Li's, 70th birthday and World Falun Dafa Day, Martin Patzelt, a German Member of Parliament, thanked Falun Dafa for benefiting people. Several practitioners in Germany also talked about the positive changes they experienced through the practice and expressed their gratitude to Master Li.
| | |
| --- | --- |
| | |
| On May 8, 2021, practitioners did the exercises outside the Brandenburg Gate in Berlin. | Practitioners introduced the practice at Pasing in Munich to mark World Falun Dafa day and wish Master Li a happy 70th birthday. |
Member of Parliament: Thank You Falun Dafa for Letting Us All Benefit
Martin Patzelt, a Member of Parliament, sent best wishes to practitioners. He said, "On the occasion of May 13 World Falun Dafa day, I express sincere greetings to Falun Dafa practitioners in China and all over the world. I am delighted that Chinese people found this form of cultivation way from ancient traditions. We Europeans have also benefited from this Eastern tradition."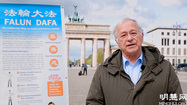 Martin Patzelt, a Member of Parliament, wish Falun Dafa practitioners Happy World Falun Dafa day during activities outside the Brandenburg Gate in Berlin.
"Falun Dafa has brought many benefits to people, bringing happiness and harmony. Isn't this what we dream of? The Chinese Communist regime's treatment of practitioners is a crime and it is very foolish. Through doing the exercises, Chinese people have improved their health. The government should consider themselves fortunate. Practitioners are simply looking for a way to relax their mind and body through cultivation. They do not want to overthrow China," he said.
He finished off his message saying, "I completely support and encourage Falun Dafa adherents. Try your best to continue walking on your path. It may not be smooth but you must persist. Thank you Falun Dafa for letting us all benefit from it."
Searching in Vain for Over a Decade
Waltraud began practicing Falun Dafa in 1995. She is very quiet and always has a smile on her face. She and her husband had a common dream when they were young—to find the true purpose of life. They believed they could find the answer in China.

Waltraud wishes Master Li a happy 70th birthday.
With this hope, her family went to China for the first time in 1979. China had just been through the Cultural Revolution. Recounting that year, Waltraud said she could still feel the damage that political campaign brought to Chinese society and its people. Waltraud's family traveled all around China. They visited many temples and spoke to the heads. Throughout the next twelve years they visited China many times and traversed the entire country, but returned home disappointed.
One day in 1995, Waltraud's husband received a phone call from the president of the Sino-German forum asking if he had heard of Falun Dafa before. A woman who was working in the China culture department at that time wanted to introduce the spiritual discipline at the forum while she visited her daughter in Germany. Waltraud's husband was teaching Taichi and qigong in Germany then and the president asked him if he thought Falun Dafa was good or bad.
Her husband got a copy of the main book, Zhuan Falun, after meeting the woman. He read it and translated it for Waltraud. After reading it once, Waltraud told her husband that the author was an enlightened being. Her husband contacted the president at once and told him it was excellent and he could learn it confidently.
Thus Waltraud, her husband, and son began to practice Falun Dafa. After searching for the true meaning of life in China for over a decade, they found it on their doorstep.
Waltraud read the first German translation of Zhuan Falun in 1997. As she kept reading, she gained a deeper understanding of the teachings. She found that she can no longer let it go.
Before the persecution began in China, Waltraud heard Master Li give lectures on three occasions. The first time was in March 1998 in New York. She said, "It was amazing, words cannot describe how I felt, one must experience it personally." Two months later, she attended Master Li's first lecture in Europe in Frankfurt, Germany. She said, "Over 900 people from all over the world were there. Everyone could feel a powerful energy. The sacredness was unforgettable."
She received a surprise during the Frankfurt conference. The person who was supposed to host the conference was asked to be a translator at the last minute. The organizer asked Waltraud if she could take her place and she agreed. "I am not good with words but I did it. Master unlocked my wisdom and gave me courage."
Waltraud said she lives by the principles of "Truthfulness, Compassion, Forbearance." Being able to reflect on her shortcomings has helped her tremendously. She learned to first be calm whenever there were problems or conflicts, and see where she has done wrong or if she has any hidden attachments. She gradually experienced the beauty of practicing cultivation. She no longer feels unbalanced when she runs into adversities. She regards everything encountered in life as a good thing and everything becomes so simple.
Waltraud said, "Falun Dafa is the hope of humanity. It is the best present bestowed by heaven." She hopes more people can realize the beauty of Falun Dafa and the universal values of "Truthfulness, Compassion, Forbearance."
Vietnamese Couple Have a Happy and Harmonious Family
Vietnamese couple Nguyen Quoc Nam and Minh Khan Vu always give one the impression they are blessed and happy.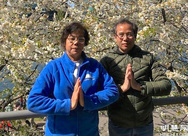 Vietnamese couple Nguyen Quoc Nam and Minh Khan Vu wish Master Li a happy 70th birthday.
Wife Minh Khan Vu said she suffered from severe blood circulation problems before she began practicing Falun Dafa. She often felt pain in her whole body and was weak. She went to many doctors in Germany and tried qigong as well as acupuncture, but to her disappointment these treatments did not work.
A phone call from her native country in spring 2017 changed Minh's life. A relative in Vietnam told her about Falun Dafa. She found the book Zhuan Falun on the Internet and read it. She then taught herself the five sets of exercises through a video recording. She said, "Every time I read Zhuan Falun, I can feel Master cleansing my body."
Her symptoms gradually decreased as she continued reading the book. She had more energy as well. The ailments that plagued her for over a decade disappeared. She returned to Vietnam and practitioners there gave her a lot of help. Everyone commented that she is a new person.
She said, "Maybe I would have died if I didn't practice Falun Dafa." Dafa is my life. Nothing is more important than practicing cultivation."
Her husband has been searching for a true spiritual belief since he was a teenager. He tried Buddhism, Christianity, and practiced Taichi but did not gain anything. He read Zhuan Falun for the first time on May 17, 2017. He said this was what he had been searching for. In the past, he experienced extraordinary things and wondered why. He found the answers to all his questions in Zhuan Falun.
Nguyen used to suffer from hay fever. Whenever it rained or the weather turned cold, his nose became uncomfortable, and he sneezed non-stop. After he began practicing Falun Dafa, these ailments went away.
The couple found a practice site in Mannheim in May 2018, and have been practicing cultivation since. They strive to follow the principles of Truthfulness, Compassion, Forbearance in their lives and treat others with kindness. Both of them get along harmoniously and their family is blissful.
Nguyen said, "Words cannot describe the gratitude I have for Master. The only thing I can do is have steadfast faith in Dafa and practice cultivation diligently."

You are welcome to print and circulate all articles published on Clearharmony and their content, but please quote the source.