Beholders, a five-day international documentary film festival, began on October 13 in Veghel, Netherlands. On the first day, a documentary titled "Ask No Questions" was screened at the venue of Cultuur Haven Veghel. Two local newspapers reported on the event the following day and introduced the film.

Poster for the movie "Ask No Questions"
According to the festival's website, this movie revealed how the Chinese Communist Party (CCP) framed Falun Gong by staging a self-immolation incident on Tiananmen Square on January 23, 2001, the eve of the Chinese New Year. The movie also depicted how Jason Loftus, producer of the film, investigated this incident in Beijing.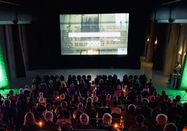 Screening of "Ask No Questions" during the Beholders film festival on October 13, 2021
Willem Wouters, a director and organizer of the festival, explained why he placed this documentary on the first day. He said that it's a great movie about China that can help the viewers understand what Falun Gong is and what cultivation is, as well as how the CCP's media has been fabricating lies to harm people.
Frits Buijs, one of the moderators, said he was impressed by the film because it uncovered a plot by the CCP to frame Falun Gong. He particularly liked Falun Gong's core values of Truthfulness-Compassion-Forbearance, and felt it was too frightening that such a peaceful meditation is being severely suppressed in China, as everyone should have freedom of belief.
Joost Hengeveld is a contributor for Movies That Matter, a film festival on human rights hosted by Amnesty International. He agreed that the principles of Falun Gong are beneficial to everyone. He did not know that people were being treated like farm animals in China and thought it highly alarming that news media in China are broadcasting lies.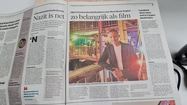 Two newspapers reported on the film festival, one of them shown above.
Brabants Dagblad and Eindhovens Dagblad, two main daily newspapers in the region with a combined readership of nearly 400,000, both reported the event on October 14. Besides the film festival, they also explained the importance of the documentary "Ask No Question" in bringing the truth to people.

You are welcome to print and circulate all articles published on Clearharmony and their content, but please quote the source.