The 10-day-long Art of Zhen-Shan-Ren (Truth-Compassion-Forbearance) International Exhibition concluded at The Box, an art gallery in Athen's city center.
The Art of Zhen-Shan-Ren (Truth-Compassion-Forbearance) International Exhibition was held at The Box in Athens, Greece

People view artworks during the exhibition
These remarkable artworks were produced by a group of talented artists who practice Falun Dafa, a peaceful meditation system. By following the principles of Truth-Compassion-Forbearance in their daily lives and through their art, the artists share insights into the practice of Falun Dafa. Many of the paintings also show the ongoing persecution of Falun Dafa in China.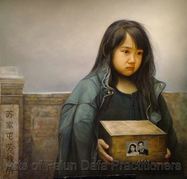 An Orphan's Sorrow depicts how countless families have been broken apart as a result of the nationwide persecution in China. Holding the ashes of her parents, the little girl withholds her tears and has no place to go.
A young woman named Halima was moved to tears by An Orphan's Sorrow. "I have seen your exercise demo on the street – it was so peaceful and impressive. I tried it and like it too," she explained while wiping away her tears, "but I did not know practitioners are mistreated so badly in China. Why aren't there any media reports about this?"
A practitioner told her how the Chinese Communist Party (CCP) defamed the practice and brainwashed people, trying to turn them against Dafa. Influenced by the CCP's propaganda and economic power, few media outside China report about the harsh persecution. Halima said she would tell her friends about this and added that she hopes the suppression ends soon.
Nick was also shocked by the ruthless persecution in China. After talking with a practitioner and learning more about it, he said he hopes practitioners in China will soon regain their freedom. He said everyone should be able to exercise his or her belief, and he feels that more people will pay attention to the persecution.
Tax accountant Nikas looked at each artwork attentively and had words of praise for them. He said that he feels that as society's moral level degrades, people have deviated from the divine. As a result, people do not care what they do even if it is wrong. He was happy to accept a hand-made paper lotus flower and said he agreed with Falun Dafa's principles of Truthfulness-Compassion-Forbearance.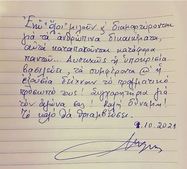 A sample of comments from the exhibition guestbook
Many people left comments in the guestbook about the artworks.
One person wrote, "Almost everyone is talking about human rights these days, but tragedies still happen as we see here. We have now seen the reality of a totalitarian regime along with its economic influence and power." The writer wished practitioners well and said he believes that the righteous will prevail.
In her note, a woman thanked the exhibit host and artists. She said that the theme and content of the artworks was very moving. She remarked that from these artworks, she could see humanity, wisdom, and reality.
Another person wrote, "Coming and viewing these artworks was a wonderful journey, as if finding our true self, towards a better life. In our hearts, there is only compassion and light, with no viciousness. I hope this will lead to a hope for the future."

You are welcome to print and circulate all articles published on Clearharmony and their content, but please quote the source.