Falun Dafa practitioners conducted activities in four cities to expose the Chinese Communist Party's (CCP) persecution on December 10, Human Rights Day. They called on people to pay attention to the issue and reminded everyone to uphold mankind's universal values.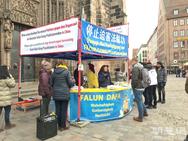 Practitioners had a booth in front of St. Lorenz church in Nuremberg on Human Rights Day.
A Group of Students Sign the Petition to Condemn the Persecution
Undergraduate student Suleyr is from India, and is studying textiles at a local university. When he and eight classmates visited Nuremberg they noticed the Falun Dafa booth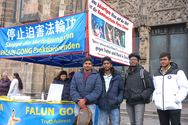 Undergraduate student Suleyr (first from left) and classmates sign the petition against the persecution.
They talked with practitioners and learned that the CCP is cruelly persecuting people who practice Truthfulness-Compassion-Forbearance. Suleyr was shocked and immediately signed the petition against the persecution—he also urged his classmates to sign. They all signed the petition and took some fliers to share with more classmates.
"In China, human rights are trampled upon," said Suleyr, "This is a serious problem. The systematic theft of organs must be stopped immediately. The CCP regime should not continue to exist. I will tell more people and let them know about the persecution that is happening in China."
Elderly Man Who Experienced Communism First-hand Signs the Petition
In Nuremberg, Klaus Wessel a retired electrical engineer, signed the petition against the persecution. He said that the CCP's live organ harvesting is terrible. About the CCP he said, "Such a regime is not stable, but it's being stabilized through internal violence. If it can't work for some reason, it's going to collapse right away."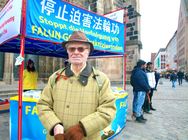 Klaus Wessel
When he learned that the CCP has persecuted Falun Dafa practitioners for 22 years, he said, "Authoritarian regimes like China (the CCP) cannot tolerate people having other thoughts."
Mr. Wessel explained that he was born in Königsberg (Kaliningrad, Russia), which was once East Prussia and one of Germany's cultural centers. After World War II it became Soviet (communist) territory under the Potsdam Agreement. The territory was taken over by the Soviets. After he and others fled, they took a boat for five days to reach the former East Germany.
Mr. Wessel later attended university in East Germany. He fled to West Germany one month before the construction of the Berlin Wall. Because of his first-hand experiences, Mr. Wessel said he truly understands what a dictatorship is.
"Everyone Should Be Able to Develop According to Their Own Wishes"
Andreas, an economist, said after signing the petition that this matter was very important. He opposed the CCP's organ harvesting from practitioners and said, "By signing, I wish to do my part."
Speaking of the CCP forbidding people to practice Truthfulness-Compassion-Forbearance, Andreas said, "This is wrong. Everyone should be able to develop according to their own wishes."
Since that day was International Human Rights Day, and he said it was important for Falun Dafa practitioners to hold this event. "This can change some things and put pressure on those who have the power to make decisions."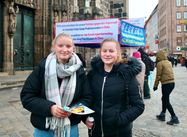 High school students Lucy (left) and Michélle (right)
High school students Lucy and Michélle lingered in front of the Falun Dafa stand and listened as practitioners talked to various people. Both of them signed the petition.
Lucy explained why she felt it was important to sign, "Because I want to help people in China. What's happening in China (organ harvesting from practitioners while they are alive) sounds very bad." Michelle agreed, "If I can help, of course I am happy."
Speaking of the CCP forbidding people to practice Truthfulness-Compassion-Forbearance, Michelle thought it was terrifying, and Lucy felt the same way, "This is related to us human beings, and we should stand up. In fact, more people should do this."
| | |
| --- | --- |
| | |
| Practitioners protest the CCP's persecution in front of Chinese Embassy in Berlin on December 10. They conduct such activities every day. | Practitioners conduct activities on December 10, on Zeil Street in Frankfurt to raise awareness of the CCP's persecution. Passersby talk with the practitioners and sign the petition against the persecution. |
Background: What Is Falun Dafa?
Falun Dafa (also known as Falun Gong) was first introduced to the public by Mr. Li Hongzhi in Changchun, China, in 1992. The spiritual discipline is now practiced in over 100 countries and regions worldwide. Millions of people who have embraced the teachings—which are based on the principles of Truthfulness, Compassion, and Forbearance—and learned the five exercises have experienced improved health and well-being.
Jiang Zemin, former head of the Chinese Communist Party (CCP), perceived the spiritual discipline's growing popularity as a threat to the CCP's atheistic ideology and on July 20, 1999, issued an order to ban the practice.
Under Jiang's personal direction, the CCP established the 610 Office, an extralegal security organization with the power to override the police and judicial systems and whose sole function is to carry out the persecution of Falun Dafa.
Minghui.org has confirmed the deaths of thousands of practitioners as a result of the persecution over the past 22 years. The actual number is believed to be much higher. More have been imprisoned and tortured for their faith.
There is concrete evidence that the CCP sanctions the harvesting of organs from detained practitioners, who are murdered to supply the organ transplant industry.

You are welcome to print and circulate all articles published on Clearharmony and their content, but please quote the source.