The annual health expo, BioCultura Madrid 2023, was held at the Madrid Convention Center, Ifema Feria de Madrid, from November 2 to 5, 2023. The expo attracted more than 500 exhibitors and more than 50,000 visitors. Practitioners, who are invited to participate in the expo every year, introduce Falun Dafa to visitors from all over the country.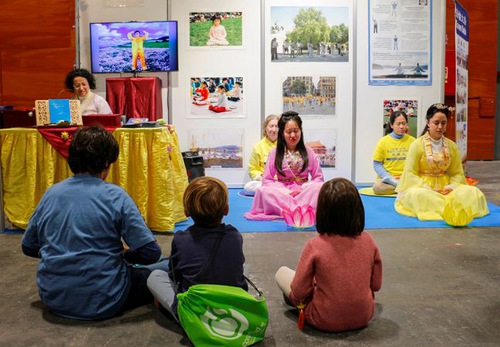 Many visitors said they were drawn to the soothing music as practitioners demonstrated the exercises. Some asked for more information about Falun Dafa and others learned the exercises. Many people commented that they sensed a peaceful and tranquil energy at the Falun Dafa booth.
Pilar and her daughter Jezabel from Zaragoza now live in Madrid. Jezabel is in a traditional Celtic music band. They both signed a petition calling for an end to the persecution of Falun Dafa during a signature drive in Callao Square in the center of Madrid.
They said they'd been looking for ways to improve their spirituality for years. When they encountered Falun Dafa again at the health expo, they were surprised and very happy and stayed to learn the exercises. Afterwards, Pilar said, "Although this was the first time I'd ever done the Falun Dafa exercises, they felt familiar, as if I'd learned them before. I learned them so quickly—it was incredible."
Jezabel said her entire body was hot and she felt energy flowing through her. "It was wonderful! This is completely different from other exercises we tried before," she said.
Mr. Pedro, 63, said after learning the exercises that an energy field drew him to the Falun Dafa booth. He said, "These exercises increase one's inner energy and nourish and balance the body, so that other things are not needed to keep the body healthy. Truthfulness, Compassion, and Tolerance are the only principles that need to be followed to survive in this competitive and cruel world."
Juan Ramos and his friends Ana and Nieves stopped by the booth. After they did the exercises, they all said they felt powerful energy. Juan said his stress was gone, and he felt focused. "Doing the Falun Dafa exercises helped me feel comfortable and at peace. It was very enjoyable," he said.
Ana said she always feels anxious. After learning the exercises, she was calm and relaxed. Nieves said she felt very calm while she did the exercises, with a strong energy flow and tingling sensation between her hands. Afterwards she felt relaxed and comfortable.
They each took introductory materials about Falun Dafa and sincerely thanked practitioners for their explanations and for teaching them the exercises.
María and her two-year-old daughter Chloe stopped by the Falun Dafa booth twice. The first time María was curious about Falun Dafa, asked questions, and took some flyers. The second time, Chloe was attracted by the practitioners as they meditated. The mother and daughter sat next to the Falun Dafa booth for a long time. María said the booth was like a peaceful haven in the big noisy convention hall and that her daughter just wanted to sit there and listen to the tranquil music.
You are welcome to print and circulate all articles published on Clearharmony and their content, but please quote the source.