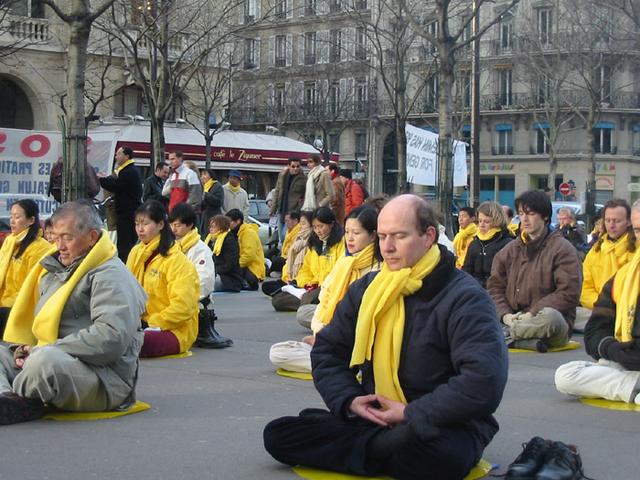 Yesterday, Falun Gong practitioners from around Europe gathered in Paris to raise public awareness about the illicit detainments. Many passers-by signed a petition asking French authorities to apologize for their actions.
NEW YORK (FDI) - On January 24th and 26th 2004 during China-sponsored cultural activities in Paris as well as Hu Jingtao's visit to the French capital, over 70 Falun Gong practitioners were detained by French police as they stood on the street or were walking near the Champ Elysées.
A preliminary statement jointly issued by the Falun Dafa Association and a Boston-based NGO investigating the matter says the detainments were a result of Chinese officials luring a few individuals within the French government (with financial incentives) to order the illicit police action. (statement)
Regarding this incident, here are some of the facts we know so far:

French police say they detained the practitioners because they wore either yellow scarves (a color Chinese officials associate with Falun Gong) or clothing with the name "Falun Dafa" written on it.


In at least one case, a Chinese official was personally directing French police on the street in Paris to detain Falun Gong practitioners.


All those detained were neither officially charged with anything nor given any documentation of their arrests. They were simply held in detention until the day's activities, which were partially organized by the Chinese Government, had come to a conclusion and then they were released.


On multiple occasions, French police refused to provide their names and badge numbers.
What happened in Paris follows a specific pattern of illicit behavior that Chinese officials have engendered in other free and democratic nations over the past few years in an attempt to export the persecution of Falun Gong outside China.
In June 2002, acting on misinformation and a blacklist supplied by Chinese agents, the Icelandic government detained all individuals believed to be Falun Gong practitioners during a visit by then-Chinese leader Jiang Zemin. They were held in a nearby school-turned-detention center as the Icelandic people marched in the streets to denounce their government's actions. (news)
During Jiang's visit to Germany in April 2002, practitioners were harassed, assaulted, and evicted from their hotel rooms by both Chinese and German secret service agents. (news) Local German Government officials later issued a public apology to Falun Gong. (news)
Scores of other incidents throughout the world have occurred over the past nearly five years as Chinese officials have sought to stifle the voice and basic freedoms of Falun Gong practitioners in their own countries. (report)
Why do Chinese officials invest so much effort and exert so much pressure to eliminate all signs of Falun Gong during state and other official visits? Since July 1999, Jiang Zemin has waged a campaign against Falun Gong in an attempt to "eradicate" the traditional Chinese practice through imprisoning, brainwashing, torturing and killing those identified as Falun Gong practitioners. Many legal experts have classified Jiang's campaign as genocide. Lawsuits in more than a dozen countries have been filed against Jiang and the small circle of leaders who assist in the campaign against Falun Gong charging them with genocide, torture and crimes against humanity. (news)
However, a large segment of Chinese society - including many Chinese Government officials - have been kept in the dark by Jiang Zemin as to what is happening to Falun Gong. This "in the dark" condition is made possible mainly by controlling all information pertaining to Falun Gong through the state-run media in China.
During state visits and other official functions overseas, however, extraordinary measures are employed to ensure the traveling Chinese officials and citizens do not see the true situation of Falun Gong (i.e. that it is freely practiced all over the world, and violently persecuted in China), thus perpetuating this "in the dark" condition.
The recent detainment of Falun Gong practitioners in Paris is precisely aiding and abetting the persecution by helping to keep people "in the dark" about Falun Gong, as well as directly violating the rights of Falun Gong practitioners.
Disturbingly, the French media has largely gone silent over the past week on this important issue.
We know France is a free and open society that is highly regarded as a nation that upholds liberty and human rights. We also know that Falun Gong is a legally registered organization in France and the French Government itself has no ill will towards Falun Gong. However, the actions of the individuals who ordered these detainments place France in very disgraceful company among the world's human rights violators.
While Falun Gong practitioners have launched an investigation (notice) and announced preparations for a lawsuit (news) regarding this matter, we would encourage the French authorities to investigate this incident themselves, for the ramifications also touch upon the reputation of, and the very freedoms granted by, the French Government. Thus, it is in France's own interest to make up for any damage done by this incident, not just to Falun Gong, but to the freedoms and basic rights that should have been protected within France's borders for all its citizens, residents and peaceful visitors.
# # #

NEWS - Feb. 09, 2004
Falun Dafa Information Center, www.faluninfo.net
---
Background
Falun Gong, also known as Falun Dafa (about), is a practice of meditation and exercises with teachings based on the universal principle of "Truthfulness-Compassion-Tolerance." Practiced in over 50 countries world-wide, Falun Gong has roots in traditional Chinese culture. With government estimates of as many as 100 million practicing Falun Gong, China's Communist leader Jiang Zemin outlawed the peaceful practice in July 1999 (report). Since that time, Jiang's regime has intensified its propaganda campaign to turn public opinion against the practice while imprisoning, torturing and even murdering those who practice it. The Falun Dafa Information Center has verified details of 881 deaths (reports / sources) since the persecution of Falun Gong in China began in 1999. In October 2001, however, Government officials inside China reported that the actual death toll was well over 1,600. Expert sources now estimate that figure to be much higher. Hundreds of thousands have been detained, with more than 100,000 being sentenced to forced labor camps, typically without trial.
You are welcome to print and circulate all articles published on Clearharmony and their content, but please quote the source.