On January 23, 2005, Singapore Falun Gong practitioners successfully held the 2005 Falun Dafa Cultivation Experience Sharing Conference. Amidst the wind and rain, practitioners in Singapore have walked hand in hand through another year. Practitioners' talked about their cultivation experiences and about making continuous improvement while studying the principles of Falun Dafa, telling people about the truth and offering them salvation. The stage of the auditorium was solemnly but brilliantly decorated with fresh flowers and lotus lanterns. In addition to local practitioners, practitioners from Malaysia and Indonesia also attended the Fa conference.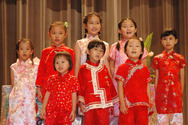 Young practitioners recite Master's poems
The Fa conference began with the reading of Master's greeting "To the 2005 European Experience Sharing Conference" and Master's poem entitled "Winter Plums." Eighteen practitioners shared their experiences, which were simple and touching and demonstrated miraculous effects of cultivation and Dafa's magnificence. Both the speakers and the listeners were touched.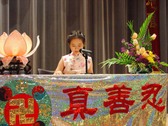 A practitioner gives her speech
A retired couple talked about how Falun Dafa enabled them to rapidly and completely discard their addiction to gambling and drinking and regain their health, and how they progressed from personal cultivation to Fa-rectification cultivation. The couple often explained the facts and introduced Falun Dafa on the streets in Singapore, and made phone calls and faxes to China. The couple also went together to New York last year to join in validating Dafa and let people in Manhattan hear the truth.
Another practitioner who has been cultivating for over eight years recounted his wife's and his experiences after obtaining the practice. Falun Dafa changed him and naturally improved his relationship with his son. One day, his son suddenly said, "Father, you've changed!" The father said, "It's because I practise Falun Gong." From then on, the whole family has been living a harmonious and happy life. The couple has been actively participating in various activities to introduce and validate Falun Dafa. They have taken advantage of selling antiques at a flea market once a week to promote Dafa and have had good effect. A retired police officer who had been secretly observing them for a long time finally became their friend.
A practitioner shared her one-month experience of letting people in Manhattan know the facts. She told of how she discovered her attachments in that different cultivation environment, studied the principles of Falun Dafa and validated the Fa (Law or principles with fellow practitioners. An elderly practitioner shared her experience of sending faxes to Beijing to clarify the truth. A nine-year-old practitioner shared her experience of improving xinxing and telling people the facts. Her pure and innocent speech and her steadfast belief in Dafa won warm applause. Another practitioner talked about how he has validated Dafa and by writing poems. Practitioners from the TV group and the Art Group also shared their cultivation experiences in their projects.
A few selected works from the "Truthfulness-Compassion-Tolerance" International Art Exhibition were displayed at the conference. There was also a film entitled, "The Everlasting Story" produced by FGM TV and a slide-show entitled, "Awakening Manhattan," reflecting more than a hundred Singapore Falun Gong practitioners going to Manhattan to validate Dafa. At the end of the Fa conference, Singapore practitioners performed three songs composed by Dafa practitioners and gathered for a group photo on the stage to wish revered Master a Happy Chinese New Year.
The Fa conference concluded in a warm and harmonious atmosphere. Recalling the past, and looking forward, we are grateful for Master's benevolence!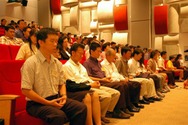 Practitioners sending forth righteous thoughts
You are welcome to print and circulate all articles published on Clearharmony and their content, but please quote the source.