On March 7th 2005, Xiong Wei and Chen Yin, Falun Gong practitioners from Germany and France who personally experienced persecution in China's labour camps, were invited to visit the European Parliament in Strasbourg. That afternoon, when meeting German MP Mr. Gahler, they not only described their personal experiences but also gave graphic descriptions of China's inhumane torture against mothers and children in its persecution of Falun Gong. As a member of the European Commission of Human Rights, Mr. Gahler had expressed his concern over the damage done to the human rights of Falun Gong practitioners and revealed his resolution to stand on the side of justice. Upon seeing the two victims for the first time and hearing their statements he said, "I am deeply shocked."
Mr Gahler strongly condemned China for committing crimes against human rights. Furthermore, he pointed out that the international community should not only focus on developing economic ties with China. Mr. Gahler expressed his deep sympathy and support for the Chinese citizens subjected to persecution. He showed great respect for and put his trust in the Falun Gong practitioners.
| | |
| --- | --- |
| | |
| German MP Mr. Gahler reading human rights reports on Falun Gong | German MP Mr. Gahler listening to Chen Yin describing her experiences of being unlawfully imprisoned in China |
International Women's Day commenced on March the 8th. At 9 a.m. in the EU Council Chamber, numerous issues concerning women were discussed, one of which was "Beijing Plus Ten." Ten years ago the fourth world conference on women was held in Beijing. At that time, Xiong Wei, a Beijing resident, and Chen Yin, who had worked in Beijing, witnessed the Chinese government's inconsistent behaviour. On one hand, the country was spending a great amount of money constructing facilities in an attempt to rebuild its democratic international image. On the other hand, the police, security guards, community policing and street committees were making conscious efforts to monitor local residents.
Meanwhile, all state-run media had been highly praising the government for its achievements in impressing people with progress in human rights situations and China's prosperous and peaceful society. However, in the interval of a decade, both Xiong Wei and Chen Yin had experienced inhumane torture. What left them even more grief-stricken was that an eight month old baby was hung upside down by the police and abused in the presence of its mother. The agonising incident happened in a tall building, just thirty minutes drive away from the fourth world conference on women in Beijing. Then the police threw the mother and her baby off the building in an attempt to destroy the evidence of their crime.
Currently, more and more people overseas and inside China have come to be aware of the true nature behind China's inconsistent image. Domestically, the Chinese Communist Party exercises a dictatorship; internationally, they create a sham image of being a democratic country. Several MPs made statements on China's human rights situations at the European Parliament. One of them specifically mentioned the country's double standards of human rights at home and abroad.
| | |
| --- | --- |
| | |
| The meeting hall of the European Parliament | Xiong Wei and Chen Yin |
At 3 p.m., the two Falun Gong practitioners were invited to address the press conference. French MP Alain Lipietz showed up at the conference even though he had only just found out about it. Media from Germany, Belgium, and France, as well as EU experts on Asian issues, attended the conference. In addition, the whole press conference was broadcast live on TV in the office of each individual MP.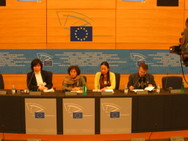 Xiong Wei and Chen Yin making statements at the press conference
When a reporter asked about China's "re-education" methods used to brainwash Falun Gong practitioners, Xiong Wei told him, "China's police forced them to renounce their belief in 'Truthfulness-Compassion-Forbearance.' Those with firm belief in Falun Gong were verbally abused and physically tortured. It is a process to 'convert a good person into a demon.'" Chen Yin proceeded to describe how the inhumane torture and forced injections of drugs had caused her mental breakdown and how she had renewed her belief in "Truthfulness-Compassion-Forbearance" in a free Western society.
Alain Lipietz stated, "After listening to the shocking testimony of these two victims, I would like to say that persecution like this is the EU's concern. To begin with, the EU made a promise to safeguard the freedom of religion and belief and has promised to stand up against torture by signing the International Convention on Human Rights. The EU should end economic ties with countries that practise torture and other brutal, inhuman methods. The major mission of the EU's foreign policy is to spread the great value of human rights to the world. The EU will come up with policies to exert pressure on the country which practises torture against its people and to encourage and support the nongovernmental organisations that stand up against torture."
That evening, before a film about females struggling against marital violence was played, Chen Yin told Ms Nurit Peled-Elhana from Israel, the winner of the Sakharov Prize in 2001, her personal experiences of being tortured in China's labour camps because of her belief in Falun Gong. Chen Yin also told her that the persecution is still happening in China so that's why she tries to tell her personal experiences to everyone in the hope that more kind-hearted people can help her to bring an end to the genocide against Falun Gong in China.
| | |
| --- | --- |
| | |
| Alain Lipietz had his photo taken with Xiong Wei and Chen Yin | Chen Yin described her experiences to Ms Nurit Peled-Elhana |
You are welcome to print and circulate all articles published on Clearharmony and their content, but please quote the source.