On March 31st, a group of Falun Gong practitioners attended a lecture held by Jan Eliasson at Handelshögskolan in Gothenburg. Jan Eliasson is the former Swedish Ambassador in Washington and later this year he will take over as president of the United Nations General Council. In the past, he worked as a UN Ambassador, as well as a Cabinet Secretary at the Swedish Foreign Ministry.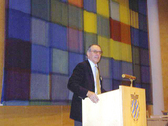 Jan Eliasson, during a lecture at Handelshögskolan in Gothenburg.
After the lecture, Mr. Eliasson answered questions from the audience. A question was raised about China's human rights violations against Falun Gong and other groups. Mr. Eliasson replied that the quality of the cooperation between China and Europe is dependent on China's development towards democracy. He also informed the practitioner who raised the question that she had an important task in letting more people know about the persecution. He closed by saying "Keep up the good work!"
After the lecture, practitioners handed Jan Eliasson information about Falun Gong and the brutal persecution. Present at the lecture were university teachers, students and representatives from various non-governmental organisations. After the lecture, two people approached the practitioner who had asked the question about the persecution and wanted to interview her.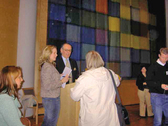 A practitioner hands over material about the persecution in China.

Originally published in Swedish athttp://se.clearharmony.net/articles/200504/14011.html
You are welcome to print and circulate all articles published on Clearharmony and their content, but please quote the source.