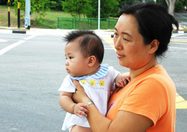 Ms. Wang with Ms. Cheng's infant daughter. (Epoch Times
A friend of a Falun Gong practitioner who is imprisoned in Singapore brought the practitioner's 6-month old daughter to visit her mother in prison, but the request for visitation was rejected.
The friend, Ms. Wang, made the request after learning from Singapore's Strait Times that the two imprisoned Falun Gong practitioners, Ms. Ng Chye Huay and Ms. Cheng Lu Jin, were on a hunger strike and that they may be placed in a punishment cell or given a written warning.
After hearing the news, the friends and family members of the two practitioners were worried. Even though it was a public holiday, some of them brought Ms. Cheng's 6-month old baby to the prison, hoping to visit her.
Ms. Wang said, "I told the prison guard we're friends of Ms. Ng Chye Huay and Ms. Cheng Lu Jin. He said that today and tomorrow are public holidays and no visits are allowed. I showed him today's Strait Times newspaper and told him that the two practitioners had been on a hunger strike for four days. The situation was critical. They then allowed me to take the child inside the prison alone."
Ms. Wang said that she was led to see three women guards. The guards confirmed that Cheng and Ng were on a hunger strike, but refused to give more information. Ms. Wang said that she was very concerned about her friends' safety and would like to see them in person. If that were not permitted, she would like the guards to at least bring the child to Ms. Cheng. Her requests were denied.
Ms. Cheng and Ms. Ng were put in prison on the day of the prosecution, April 27, which surprised the lawyer, the defendants and their family members. They did not have any time to arrange for the child. They thought that even if they lost the lawsuit, they would be able to appeal, and the convicted can usually be released on bail during the appeal period. "We did think about bail, but didn't expect that the judge wouldn't allow any bail at all," Ms. Wang said.
One guard agreed that the judgement of no bail seemed unfair. The guards also said that it was very rare to have prisoners being on a hunger strike. The last hunger strike they remembered was in the 1980s.
Ms. Ng and Ms. Cheng were charged by the Singapore police in May 2004. Each of them faced eight charges, including "Assembly without a permit" and "Possessing and mailing out uncertified VCDs." After almost one year of hearings, the two practitioners were fined S$20,000 and S$24,000 respectively on April 27, 2005 by the Singapore Court. They refused to accept the verdict and expressed their wish to appeal. They were taken to the Changi Women's Prison on the afternoon of April 27 with the possibility of being imprisoned for up to 24 weeks.

http://www.theepochtimes.com/news/5-5-2/28361.html
You are welcome to print and circulate all articles published on Clearharmony and their content, but please quote the source.