Hong Kin Wong with her daughter In Sin Cheong, who was rescued from China last month. Iconoclast Photo By Gene Ellis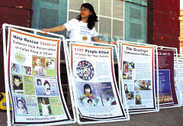 This young woman's mother-in-law was persecuted for practicing Falun Gong.
Iconoclast Photo By Gene Ellis
A group of Chinese children, teens, and adults stopped in Crawford Sunday in front of the Amsler Building. Their demonstration was part of an American tour, begun last Friday. This day alone, they made stops in Houston, College Station, Waco, and Crawford. They are hoping to raise American awareness to the persecution of Chinese people who practice the ancient meditative process known as Falun Gong.
To the unpracticed eye, the exercises and meditation appear quite similar to yoga or tai chi, and are certainly nothing that would be cause for arrest in the United States.
According to a brochure printed and distributed by this group, at the simplest level, Falun Gong is a way of life, a choice to be a good person with higher moral standards. The goal is to bring one towards wisdom and enlightenment through following the characteristics of the universe: truth, benevolence, and forbearance.
Practitioners give up selfish and harmful thoughts such as fame, wealth, and lust. There is, of course, more to it than that. And combined with five sets of gentle exercises, Falun Gong is said to improve health, morality, and purposeful living.
Falun Gong is practiced in more than 60 countries by over 100 million practitioners.
According to Michelle Huang of Austin, "In China, this was an art quietly passed along from one person to another for years and years. It was introduced to the public in 1999 [Editor's correction: 1992] and [later] targeted by Communist leader, Zemin Jiang, for persecution."
The Communists in China do persecute many people for practicing their religions.
"Although Falun Gong is not considered a religion, it is treated in the same manner by the government, its practitioners imprisoned, and persecuted, often to the point of death," said Hongyi Pan. Pan claims there have been over 3,000 cases of torture [Editor's correction: practitioners have documented many more cases than this.]
According to Pan and Victor Fong, two of the adults traveling with the Chinese children, 300 million [Editor's correction: over 3 million] disgruntled Chinese have resigned from the Communist party in that country, mainly over the persecution of these people.
Traveling with the group that brought their message to Crawford were Hong Kin Wong, whose husband is serving his fifth year of a 10-year sentence for practicing Falun Gong, her son In Wai Cheong, rescued from China several years ago, and her daughter In Sin Cheong, who was rescued only last month and joins her mother and brother in New York.
Next month when Chinese President Jintao Hu comes to the United States to visit President Bush, this group hopes Bush will urge the Chinese leader to stop what is being called a genocide, to rescue the Falon Gong practitioners and their families. It is believed that at least 2700 prisoners have been killed thus far. As the Communist party controls all news, it is difficult to calculate. This leaves many orphans who are often shunned. The group also hopes to encourage President Bush to make possible the American adoption of these orphans, so they may have a chance to live in the freedom of America.
You are welcome to print and circulate all articles published on Clearharmony and their content, but please quote the source.