The mobile exhibition "Fields of Shame", which was created through a joint German-Polish initiative between the International Society for Human Rights and the Centre for Theory and Practice of Democracy opened in Hannover on November the 8th.
The mayor of Hannover, Dr. Moennig, a representative of each of the organisers and a Falun Gong practitioner from Hannover stressed the special meaning of the exhibition in their speeches: The exhibition was a protest against human rights violations against people living in socialist or communist dictatorships. In China, Tibet, North Korea, Cuba and Burma the torture of prisoners of conscience, people of faith, proponents of democracy and journalists is common. Representatives from six different media outlets newspapers, radio and television learned details about the brutal persecution and were told that the media should put more emphasis on topics such as human dignity and human rights.

Two groups of Falun Gong practitioners collected petition signatures during the afternoon for two petitions: one petition demanded that the instigator of the persecution against Falun Gong, Jiang Zemin, be brought to justice in a court of law for his crimes; the other petition demanded the release of Jiang Renzheng and his return to Germany in the company of his wife Guo Rui and both of his children. The family was deported to China from Germany earlier this year and Jiang Renzheng is now imprisoned in a forced labour camp.
An anti-torture exhibition by Falun Gong practitioners was displayed in conjunction with the exhibition. A Chinese practitioner was shackled to a fence making it look like the inner yard of a prison, which brought the atrocities close to home.
Many passersby were deeply impressed by the exhibition. They were shocked by the photographs of a Falun Gong practitioner whose face was deformed by electric batons and by the description of organ removals from executed victims.
One student mentioned that he is attending a seminar about sports and that he had discussed the 2008 Olympic Games in Beijing with a fellow student. He took some leaflets in German and Chinese about the persecution of Falun Gong saying that he planned to use them to inform people about human rights violations in China.
Falun Gong practitioners distributed many flyers and collected numerous signatures. It seemed that more and more people are interested in learning more about human rights violations.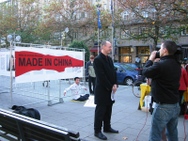 Mr Lessenthin, spokesman for the International Society for Human Rights, was interviewed by the media

Originally published in German at http://de.clearharmony.net/articles/200511/27509.html
You are welcome to print and circulate all articles published on Clearharmony and their content, but please quote the source.