On December 13th, 2005, while Luo Gan, Secretary of the Political and Legislative Affairs Committee of the CCP Central Committee and head of 610 Office, was visiting Argentina, the Association of Falun Dafa in Argentina filed a criminal lawsuit against him for genocide and torture at the Federal Criminal Court in Buenos Aires, the capital of Argentina. The federal court accepted the lawsuit.
Luo Gan is in a delegation visiting three South American countries, Argentina, Uruguay and Cuba from December 10th to 25th, 2005. At 1:40 p.m. on December 13th, Falun Gong practitioners in Argentina, on behalf of all Falun Gong practitioners who have been suffering persecution in China, filed a criminal lawsuit against Luo Gan at the federal court, accusing him of committing crimes of genocide and torture during the persecution campaign against Falun Gong. Judge Octavio accepted the lawsuit on the spot. Falun Gong practitioners also testified in front of the assistant to the Judge.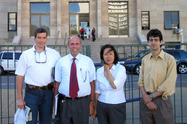 Plaintiff lawyer Alejandro (second from the left) and Falun Gong practitioners outside the court
The lawyers representing Falun Gong practitioners are renowned criminal lawyer Adolfo Casabal Elia and civil lawyer Alejandro Cowes in Argentina. Both lawyers helped Falun Gong practitioners free of charge.
Lawyer Alejandro expressed that he dislikes communism. He said, "When I was a child, I learned from my teacher that communism is evil."
Luo Gan is being sued for genocide and crimes against humanity in more than 15 countries, among them Chile, Bolivia, Peru, Belgium, Finland, Armenia, Moldavia, Iceland, Spain, Taiwan, Germany, Korea, Canada, Japan and Sweden. At the same time, Luo Gan is considered a person who is not welcome in Canada and the United States.
Luo Gan is Chief Persecutor of Falun Gong
Former head of the Chinese Communist Party Jiang, and accomplices Zeng, Luo, Liu and Zhou, initiated the persecution and made genocidal policies to incite the crimes and murder. As a result, at least 2792 Falun Gong practitioners have died from the persecution, at least 6,000 people have been illegally sentenced to prison, and more than 100,000 practitioners have been sentenced to forced labour without trials.
Luo Gan, as Secretary of the Political and Legislative Affairs Committee of the Chinese Communist Party (CCP) Central Committee and head of 610 Office, directly planned, deployed and directed the persecution against Falun Gong. In order to gain personal political capital, he arbitrarily murdered Falun Gong practitioners, implicated, coerced and threatened millions of families, and created countless family tragedies and wrongful cases. He manipulated the political and judiciary system, and made use of the country's propaganda machine to spread lies to the world to distort and demonise Falun Gong cultivators, to mislead the public. He also wantonly arrested and detained Falun Gong practitioners on a large scale across the country to inhumanly and ruthlessly persecute them.
After Jiang stepped down, Luo Gan continued persecuting Falun Gong so as to force the new leaders to take the responsibility. This year, he directed a new round of arrests of Falun Gong practitioners which has led to frequent torture death cases. Many extremely despicable cases occurred.
On the afternoon of November 25, 2005, policeman He Xuejian continuously raped two women Falun Gong practitioners, the shocking incident took place at Dongchengfang Police Station in Zhuozhou City, Hebei Province. During the evening of November 24, 51-year-old Liu Jizhi and 42-year-old Han Yuzhi were arrested at home by the police from Dongchengfang Police Station. Afterwards, they were savagely beaten while being illegally interrogated. The following afternoon, policeman He Xuejian, who is in his 20s, continuously raped the two practitioners during a so-called "official interrogation." The incident severely injured the victims and their family members.
Similar tragic incidents have appeared across China during the past six-plus years that Falun Gong has been persecuted directly by the CCP and Jiang's group.
Falun Gong practitioners expressed that for anyone who chooses to be against Truthfulness-Compassion-Forbearance, chooses to abandon kindness and does evil deeds, and has committed huge crimes, what awaits him or her will definitely be punishment by the law in the human world and by the heavenly principle that good will be rewarded and evil will receive retributions.
You are welcome to print and circulate all articles published on Clearharmony and their content, but please quote the source.