On the 30th of January 2006, Falun Gong practitioners held an activity to celebrate the fourth Falun Dafa Day in the small town Lerum. It was on the 30th of January 2003 that Falun Dafa Day was inaugurated by Bengt Hörnlund, representative for the community's Health Council and chairman of the Child and Youth committee.
At that time he praised Falun Gong practitioners and expressed his support for the practitioners being persecuted in China. Lerum Community also issued a proclamation, which can be seen at http://www.clearharmony.net/articles/200302/10096.html
Falun Dafa, also known as Falun Gong, has been practised in Lerum since 1999. There are practice sites where new practitioners can learn the exercises for free and others can practise the exercises in a group. The practice of Falun Gong has received a lot of support and appreciation in Lerum. Many people there have experienced the effects Falun Gong has on practitioners' health and well-being.
Demonstrating the five sets of Falun Gong exercises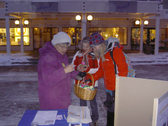 Youngsters especially appreciated the paper lotus flowers
This year it was quite cold on Falun Dafa Day and a lot of snow fell, as it usually does at this time of the year in Sweden. Falun Gong practitioners held an activity outside the community house. They demonstrated the five sets of exercises and distributed flyers. They also distributed handmade paper lotus flowers that were especially appreciated by the children.
Although it was cold, many people accepted the flyers. One woman approached the practitioners and said she found it very interesting to see Falun Gong that day. Earlier in the day, she and her workmates had been searching on the Internet for information about Falun Gong because they wanted to know where they can learn the practice. She got information about the closest exercise practice site and left very happily.

Originally published in Swedish at http://se.clearharmony.net/articles/200603/17019.html
You are welcome to print and circulate all articles published on Clearharmony and their content, but please quote the source.