In order to protest against the Chinese Communist Party's crimes of harvesting organs from live Falun Gong practitioners, on April 14th, Latvian Falun Gong practitioners started a seventy-two hour hunger strike in front of the Chinese Embassy in Riga. Mārtiņš Rubenis, a bronze medallist in the Turin Winter Olympic Games and the first Olympic medallist in the history of Latvia, also participated in the hunger strike activity.


Interview with Martin Rubensis
Rubenis explained that he took part in the hunger strike to arouse society's attention and that he would spend twenty-four hours in front of the Chinese Embassy. He said, "I think it is my responsibility to let people around know about this matter, the CCP tramples on human rights like that, but actually will hold the Olympic Games, as an athlete I find this is unacceptable!".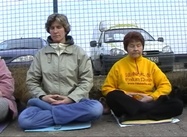 Protesting in front of the Chinese Embassy
The person in charge of the Baltic Sea Falun Gong Association expressed that, this activity is known by many people because the Riga Duma announced this activity to each mainstream media and news centre. He said that: "We called for help from the Latvian government and people to stop the CCP's persecution of Falun Gong and hope to conduct an immediate investigation into the harvesting of organs from Falun Gong practitioners for sale and other persecution means in all the CCP labour camps, prisons and concentration camps."
The organiser of this activity indicated that, in order to rescue Falun Gong practitioners who are in danger of being killed by the CCP to eliminate the potential informants, Latvian Falun Gong practitioners will hold a three day hunger strike at the Chinese Embassy in Riga city.
On the same day the Latvian mainstream media reported this activity in detail.
You are welcome to print and circulate all articles published on Clearharmony and their content, but please quote the source.