On May 13th, 2006, the seventh World Falun Dafa Day, Falun Gong practitioners from San Francisco gathered again, and sincerely wished benevolent and great Master Li a happy birthday. The Western-US Divine Land Marching Band, consisting of almost 200 practitioners, made its debut and amazed the spectators. Many Chinese people praised its performance.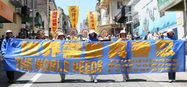 Marching Procession

Sending greetings to Master
On the 14th anniversary of Master starting to spread Falun Dafa, Falun Gong practitioners from the Bay Area got together in Chinatown, celebrating this holiday in a way which is different than before. At 12:00 noon, the Western-US Divine Land Marching Band, which was formed one month ago, made its debut. The march took off from Garden Corner Square, and went through the busiest business street in Chinatown, and made a circle around Chinatown.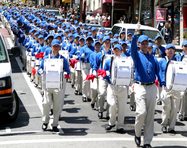 Divine Land Marching Band passing through Chinatown
Miracles that Happened to These Falun Gong Practitioners
The director of Divine Land Marching Band, Mr. Guan Guimin, who is also famous tenor in China said the band played extremely well. He said, "It is a miracle that the performance is so good, considering the band was formed only one month ago."
Mr. Guan said that the Divine Land Marching Band played "Falun Dafa is Great," "America the Beautiful" and other songs. Many spectators said the performances were very vibrant, and praised the band.
When speaking of the reason why the band members could reach such a high level in such a short time, Mr. Guan said, "There are only a few people in the band who are professional musicians. Some members of the band knew nothing about playing an instrument before. But they all reached such a high level in one month. This is impossible for average people, but miracles happened to these Falun Gong practitioners.
Mr. Guan said that because more and more people have started practising Falun Gong, it became possible to have a 200-member band in the Western-US. When the Divine Land Marching Band passed through Chinatown, many Chinese people showed their respect to it.
Three Sisters from San Francisco: "The excellent performance by the band is a miracle made by Dafa."
Jessica, Jean and Karen, three sisters, are members of the Divine Land Marching Band, and they are also Falun Gong practitioners. The eldest sister, Jean, obtained the Fa only one month ago. She saw the big changes in her sisters--they became more peaceful, energetic and were no longer out for personal interests. Influenced by them, Jean also started reading Zhuan Falun [The main book of Falun Gong]. She said that Master's teaching led her into a new world.
Karen said that cultivating Falun Gong purifies her soul and improves her health. Her world becomes clean and glorious.
She said that they all feel happy in cultivation. She really feels the beauty of Falun Dafa. She also feels that Master's benevolence improves her spiritual status from the level at which she only cared about fame, benefits and sentimentality.
Jessica said, "I didn't have a good temper before. After practising Falun Gong, I understood that I should look inward when having conflicts with people. During the band training, I was worried that members would not do a good job. Later, I realised that I should do well myself. I did well what a Dafa disciple should do today. I think that everyone did very well today. This is a miracle of Dafa."
The three sisters said, "We feel very happy that we can celebrate Master's birthday with everyone."
Spectators: You support your belief in a beautiful way.
The Divine Land Marching Band played several songs before the march took off from Garden Corner Square. Many people were amazed by the band, and praised its performance.
Mr. Li, a citizen from San Francisco, said, "I am very happy to enjoy the performance by the Falun Gong band. The CCP harvests organs from Falun Gong practitioners and sells them to other countries. They even cremated the bodies to destroy the evidence. How can they do that?"
Athan, a western citizen commented on the Divine Land Marching Band's performance: "I was very touched. It is very good that so many people stood out to support their belief in such a beautiful way. People can shout, and people can also play music. You choose the beautiful way. I think that you will draw people's attention. It is very good."
Mr. Wang, who is from Mainland China and a citizen in San Leandro, was amazed by the Divine Land Marching Band. Mr. Wang is an actor. He attended Master Li's lecture in Beijing several years ago, but he didn't keep cultivating Falun Gong. He asked about the price of the instruments and performers' salary. He was very amazed when he was told that Falun Gong practitioners paid for the instruments themselves and performed voluntarily. He said, "Many Chinese are very selfish now. I organised a street performance before. I gave people beautiful fans and asked them to dance. Many people didn't dance and ran away after they got the fans. Later, I became smart, so I gave fans to people after they danced. It is unbelievable that Falun Gong practitioners perform voluntarily."
Celebrating Rally: World Falun Dafa Day is the Occasion Most Deserving of Celebrating
After the parade, practitioners held a celebrating activity on Garden Corner Square.
Ms. Wang Feng, a business manager from the Bay Area, said, "May 13th is World Falun Dafa Day, and is a holiday for all the people. It is the most deserving of celebrating. It is the date in which everything has an opportunity to renew its life."
Wang Feng said that Master started spreading Dafa to the public on May 13th, 1992 and brought the blessing that sentient beings had longed for. Since then the history of universe had a new start.
She said that May 13th is also Master Li's birthday. It is the date that both heaven and earth are celebrating, and also will be the most important holiday in the future.
Falun Gong Spreads More and More Widely Overseas
Mr. Guan Guimin recalled the spread of Falun Gong in Mainland China in 1996. There were lots of exercise sites in Beijing. There were 5,000 people doing the exercises in Beijing Stadium every Saturday morning. Because Falun Gong is a Righteous Way, it spread very fast. After 1995, Master Li spread Falun Dafa overseas. Many practitioners improved their health through the practice.
Mr. Guan said that, although Falun Gong has been persecuted in China, it spreads more and more widely in other countries. There are people practising Falun Dafa in almost 80 countries. It shows that Falun Dafa is righteous and cannot be banned. The truth of Falun Dafa will be revealed eventually.
Western Practitioner: We will keep clarifying the truth about Falun Gong.
A western practitioner named Steve, who is a businessman in the Bay Area, said, "In these 14 years of spreading Dafa, Falun Dafa has been persecuted for seven years. The CCP cannot defeat Falun Gong practitioners. More and more people started practising Falun Gong. In the brutal persecution, Falun Gong practitioners still obey the principle of "Truthfulness, Compassion, Forbearance," and keep clarifying the truth about Falun Gong to people.
He said, "We are celebrating Falun Dafa Day. But we won't forget those who are being persecuted in China. Practitioners all over the world won't stop exposing the evil nature of the CCP until the end of the persecution."
| | |
| --- | --- |
| | |
| Young practitioners from Minghui School celebrating Falun Dafa Day | A happy young practitioner |

People learning the exercises
You are welcome to print and circulate all articles published on Clearharmony and their content, but please quote the source.