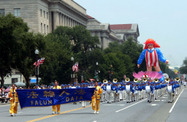 Falun Gong practitioners participate in the Independence Day Parade for the fifth time in Washington DC, the capital of the United States
The Fourth of July is Independence Day in the United States, and also a national holiday in the US. Falun Gong practitioners from Washington DC and New York were invited to participate in the Independence Day Parade for the fifth year in Washington DC, adding unique oriental divine charm to this grand celebration.
| | |
| --- | --- |
| | |
| Vast and mighty Divine Land Marching Band | Elegant float |
The sweltering weather failed to deter several hundred thousand enthusiastic spectators on both sides of Constitution Avenue. Over a hundred groups took part in the parade, which featured all kinds of floats, military bands and dancing performances. Many groups focused on the theme of celebrating freedom and independence. The Falun Gong practitioners' contingent was the 99th in the parade procession.
Three practitioners in exercise costumes walked at the front of the contingent holding a banner reading "Falun Dafa" in both Chinese and English. Following closely was the Divine Land Marching Band composed of more than two hundred Falun Gong practitioners. The band was divided into eight columns, traversing the entire Constitution Avenue, vast and mighty.
Behind the band was an exquisite float on which several Falun Gong practitioners of different nationalities demonstrated the exercises. A huge pink lotus flower blossomed on top of the float, together with numerous smaller lotus flowers symbolising Falun Gong cultivators' purity and uprightness. Four "celestial maidens" in traditional Tang Dynasty costumes elegantly danced on both sides of the float. The Falun Gong practitioners' performance gained rounds of applause from the audience.
Mr. Tie, who was among the spectators and previously served in the US Air Force currently works in Washington DC. He said, "It is really not easy to have such a free environment here, but most of time, we take all this for granted." When seeing Falun Gong practitioners' contingent pass by he said, "Here is a free country, everyone can express their principles freely. I sincerely hope that people in other places can enjoy the same freedom as we do."
Albert Monroa and Mary Faynyuk, two volunteers from Amnesty International were also among the spectators. Mr. Monroa said, "I treat Independence Day every year as a reminder. A reminder to us of the principle for founding this country. We have the responsibility to make an effort to allow more people in the world to enjoy the same freedom as we do."
On July 4th, 1776, the Declaration of Independence was officially adopted in Philadelphia in the United States. Today is the 230th anniversary. This day every year, a variety of activities, such as parades, memorial ceremonies, concerts, and fireworks displays are held across the United States to celebrate the special day.
You are welcome to print and circulate all articles published on Clearharmony and their content, but please quote the source.