Omaha, Nebraska is a mid-size city in America, whose population is about 300 thousand. There are ten public libraries in Omaha. To help people learn about Falun Gong and the persecution of Falun Gong in China, local practitioners held a "Truthfulness-Compassion-Tolerance International Art Exhibition" in the public libraries.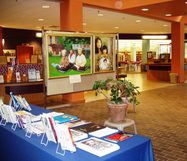 "Truthfulness-Compassion-Tolerance International Art Exhibition" is held in a public library
One library agreed to exhibit the art works for two months, and two other libraries exhibited them for one month. Since it is summer, a lot of parents are bringing their children to the libraries. Many people took truth-clarifying materials after enjoying the art works. Practitioners came to the exhibitions on weekends to introduce each painting to the visitors.
A couple came to the library and saw a painting of a Buddha's statue. The wife said to the husband, "We never thought about coming to this library. The reason we came here today is probably for this." They told practitioners that they have been interested in Buddhist cultivation. They asked for the details about Falun Gong, and talked to practitioners for an hour. Before they left, they told practitioners that they would attend the weekly Fa-study and group exercise.
Before school started, practitioners contacted a local university. The art department of the university was willing to help practitioners hold the art exhibition from August 21st to September 2nd in the art department building. The chair of the department said that they would also like to invite the creators of the art works to give seminars.
You are welcome to print and circulate all articles published on Clearharmony and their content, but please quote the source.