The persecuted people in China need your help
To whom it may concern:
On the occasion of the Chinese Prime Minister Wen Jiabao's impending visit to Germany, we ask your help to immediately end the persecution of Falun Gong. Wen Jiabao will head a delegation of four hundred Chinese attending the "Hamburg Summit 2006" on September the 13th to the 15th.
We would like to take this opportunity to update you about the human rights situation in China. The AFP/AP news agency has reported that China is continuing to take action against human rights supporters by having arrested attorney Gao Zhisheng. Attorney Gao is the best known Chinese human rights attorney a Christian who was arrested on August the 15th 2006 by Chinese secret agents. On December the 13th 2005, he sent a brave and shocking letter, to the Chinese President Hu Jintao and Prime Minister Wen Jiabao, describing the brutal methods used to persecute Falun Gong practitioners in his home country. On the next day, he published a written declaration of his withdrawal from the Chinese Communist Party (CCP). He and his family were monitored by undercover agents for 262 days. Several attempts on his life were made during that time. Amnesty International announced an "Urgent Action" concerning the matter on August 22nd, 2006.
Attorney Gao wrote in his article: "The most terrible organisation in history is upon us. To the end, this inhumane group of people will use the most terrible methods. On our path, we have to be prepared to shed our blood and to lose our lives".
The CCP uses the most brutal methods to silence its critics. This is illustrated by the latest case, airline pilot Yuan Sheng, a Falun Gong practitioner. He was trying to tell people about the book "The Nine Commentaries on the Communist Party", and police tried to arrest him immediately. He made a painful decision and asked for asylum in the USA. He had to leave his wife and twelve year old daughter behind.
The Vice President of the EU Parliament, Edward McMillan-Scott, in an open letter to Gao Zhisheng dated June the 4th 2006 "The Chinese Regime remains brutal, arbitrary and paranoid". In March 2006, it was discovered that the CCP was harvesting organs from live Falun Gong practitioners in labour camps, prisons, hospitals and military institutions. This shocked McMillan-Scott, causing him to meet with two Falun Gong practitioners in China to personally investigate the allegations. One of the practitioners, Cao Dong, is an eyewitness of the organ harvests that was done to his fellow practitioners in prison. He has disappeared without a trace since talking to McMillan-Scott.
Allegations of forced organ removals from Falun Gong practitioners in China were verified in a report published on July the 6th 2006 by David Kilgour, a former member of parliament in Canada and Secretary for Asia and the Pacific Area, and by the international human rights attorney David Matas. They publicised that the number of organ transplants had risen by 41,500 between 2001-2005. "This is an expression of evil that has never before been witnessed in history", said David Kilgour at a press conference on July the 14th 2006 in Berlin.
The type of suffering that the CCP has wrought on the Chinese people during its 57 year reign is indescribable: 80 million people have died unnatural deaths. Today, countless Falun Gong practitioners are kept in labour camps, prisons, hospitals and military institutions without a legal basis and they are slaughtered for profit as part of the organ trade. Yuan Sheng was forced to leave his home, Cao Dong is missing and Gao Zhishen was arrested.
Falun Gong practitioner Jiang Renzheng is still under house arrest. He was persecuted because of his belief in Falun Gong and was sentenced to three years forced labour after he had been deported to China from Germany on March the 7th 2005 with his wife and two young children. Although he was belatedly recognised as an asylum seeker by a German administrative court, the Chinese government will not release him.
Wang Xiaoyan, the wife of Falun Gong practitioner Zhang Zhengtong, a student at the University of Leipzig is still imprisoned in a labour camp in Shenyang City in China. The Chinese police took her passport from her, so she wouldn't be able to join her husband in Germany. She was arrested at her house on May 27th, 2006 and sentenced to two years forced labor in the Masanjia labor camp.
Great numbers of persecuted people in China are waiting to be rescued. Every rescue attempt will be counted towards upholding justice among humankind, to end the persecution of Falun Gong practitioners and to maintain human rights in China!
Thank you very much!
The Falun Gong Task Force for Human Rights in Germany
On November the 19th 2004 the Chinese Epoch Times published the Nine Commentaries on the Communist Party, a series of articles about the history of the Communist Party in China from its start to the present including a thorough analysis of the characteristics of the CCP. The Nine Commentaries have led to a massive withdrawal from the CCP and its affiliated organisations. In August 2006, the number of written withdrawals had risen to twelve million, a number that frightens the CCP.
de.clearharmony.net on Thursday August the 31st 2006.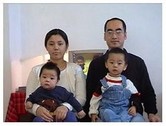 Renzheng Jiang and his wife and two children in 2004 in Germany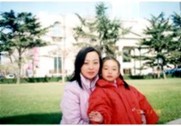 Ms. Wang and her then five year old daughter
You are welcome to print and circulate all articles published on Clearharmony and their content, but please quote the source.