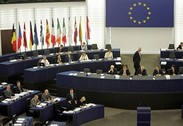 (Olivier Morin/AFP/Getty Images)
The European Parliament adopted a resolution Friday expressing alarm over a range of Chinese economic, foreign policy, environmental, and human rights issues, including the forced removal of organs from imprisoned Falun Gong practitioners.
The resolution was passed ahead of Saturday's summit in Helsinki between the European Union's executive body and China. Acknowledging that in E.U.-China affairs "trade and economic relations have overshadowed the question of democratic reforms, respect for human rights and the rule of law," Parliament called upon the E.U.'s member states to formulate "a new common strategy on China."
A year to the day after passing a resolution condemning oppression of religious believers in China, Parliament again deplored "the contradiction between [China's] constitutional freedom of belief" and the reality of ongoing state oppression of Tibetans, Christians, and Falun Gong adherents.
Friday's resolution "strongly condemns the detention and torture of Falun Gong practitioners" and urges the Chinese communist regime to "release them immediately." The E.U. Parliament "is concerned about reports that organs of detained Falun Gong practitioners have been removed and sold to hospitals."
Prior to the resolution, Members of European Parliament Simon Coveney, Charles Tannock, and Edward McMillan-Scott co-signed a letter to the European Commission urging its representatives to raise the organ removal issue during its meetings with Chinese delegates in Helsinki.
All three had met with former Canadian Secretary of State for Asia Pacific David Kilgour, who investigated allegations that Chinese doctors were removing vital organs from the living, healthy bodies of Falun Gong adherents. Kilgour and international human rights lawyer David Mattas's report, which was published in July, came "to the regrettable conclusion that the allegations are true" and that these organ seizures are "large scale."
Practitioners of the spiritual practice Falun Gong held rallies in Helsinki Saturday calling for an independent investigation of all Chinese detention centres where adherents are being held, and to "help stop this modern-day atrocity." They also filed a criminal lawsuit against Chinese Minister of Commerce Bo Xilai, who arrived in Helsinki as part of the Chinese delegation. Bo was charged with committing genocide in overseeing the campaign against Falun Gong while serving as governor of Liaoning province.
Weekend calls made to the Chinese Embassy for comment were not answered.
'Deeply Concerned'
The 7,000-word E.U. resolution addresses a wide range of concerns, many revolving around issues of rule of law. Parliament condemned the Chinese Communist Party's recent crackdown on defence lawyers. It specifically called upon the regime to disclose the location of human rights attorney Gao Zhisheng, who has not been heard from since his August 15 arrest.
The resolution also notes that the number of political prisoners in China increased by 25 percent from 2004 to 2005. The E.U. Parliament "regrets that increased trade and economic relations with China have brought about no substantial progress in the field of democracy, human rights and the rule of law," the resolution states. It adds that the latter "are basic components of the political dialogue between China and the E.U."
Parliament urged China to abolish its "re-education" system, use of torture, and the death penalty, as well as reassess the Tiananmen Square incident, make public the list of all political prisoners and release them unconditionally. It also reaffirmed the E.U.'s commitment to its arms embargo, which came into place following the 1989 Beijing Massacre. The resolution also emphasizes China's responsibilities as a trading partner, stating that "70% of all counterfeit goods seized on the European market come from China." Parliament called upon China to provide written guarantees that its export products were not made in labour camps and insisted that, in that absence of such guarantees, the E.U. Commission bar these products from being imported.
The resolution further states that the E.U. Parliament "is concerned about the development of inequality and unfair distribution of wealth, mass unemployment and uncontrolled urbanization, the rising crime rate and corruption and not least the environmental problems of China." It also draws attention to child labour, "the appalling" discrimination against China's 150 million migrant workers, and the "shameful expropriations of farmland for building purposes." Parliament paid particular attention to abuses in Tibet, stating it is "deeply concerned" by the Communist Party's "patriotic education" campaign. The campaign involves forcing Tibetan monks and nuns to denounce their spiritual leader, the Dalai Lama, or face arrest.
Other concerns include the denial of protection to North Korean asylum seekers, the violation of women and girls' rights including forced sterilization, the clampdown on freedom of expression, and the "irresponsible policies" of companies such as Yahoo and Google, which have aided Chinese censors.
The resolution concludes by calling upon the Parliament President to forward it to the E.U. Council and E.U. Commission, as well as both the governments and parliaments of E.U. member states and candidate countries in addition to the Chinese communist regime.
You are welcome to print and circulate all articles published on Clearharmony and their content, but please quote the source.